Dan Sutton is one of those good guys you just can't help but like right off the bat.
It's because Dan really cares.
He cares to his core about preventing foodborne illness and taking every action possible to that end.
As General Manager of the Pismo Oceano Vegetable Exchange (POVE) and Communications Committee Chair of the California Leafy Greens Marketing Agreement (LGMA), Dan's been at the heart of a close and fruitful partnership with STOP Foodborne Illness. From a food safety standpoint, we couldn't ask for a more passionate, committed, enthusiastic collaborator. Today, you'll learn more about Dan and why STOP is so thrilled to be locking arms with this extraordinary food safety professional we're proud to also call a friend.
Q: Tell us a bit about your story, Dan. How did you wind up in a food safety career?
 A: I grew up on a small hobby farm in California's central valley where we grew kiwi. At a young age, I was lucky enough to work alongside my Dad in the orchard. I enjoyed learning the nuts and bolts, challenges, hard work, and life lessons of the agriculture industry. All of those experiences led me to a natural next step of earning a BS in Agribusiness from Cal Poly San Luis Obispo.
Soon after graduating college, I was fortunate to land at the Pismo Oceano Vegetable Exchange (POVE) in California. POVE is a grower-owned cooperative that grows some of the highest quality produce on California's central coast including nappa cabbage, bok choy, Asian cut broccoli crowns, and many varieties of lettuce. When I began at POVE in 2002, food safety was just starting to become a standard for operating in the fresh produce industry. I developed POVE's food safety program early on and continue efforts to improve it to this day.
Without a doubt, I know I'm where I should be. My career affords me gratifying work that I look forward to digging into each day.
Q: Can you share a specific event that was an important influence on your staunch commitment to food safety?
A: When the spinach E. coli outbreak of 2006 hit, it had a profound impact on me. Though the produce involved in this outbreak was not from any POVE farms, spinach is something we grow. For the first time, I realized our products could make people sick. That COULD have been us who caused 300 illnesses and three deaths. I was crushed inside.
That horrific outbreak left me with many questions. One of my biggest: How, as an industry, would we recover and restore consumer confidence in our produce?
The answer came in 2007 when LGMA was formed by leaders in our industry with a mission of protecting public health by assuring safe leafy greens through new, comprehensive, effective food safety programs. I enthusiastically joined LGMA. It's been very rewarding to take strong, coordinated, positive action with fellow farmers who are all committed to producing safe leafy greens.
Q: As General Manager of POVE and Chairman of the LGMA Communication Committee, what's a day in the life like?
A: It's busy!
A typical day starts in the office planning out what I'm going to do. Flexibility is key, though, because best laid plans tend to get thrown off. Generally speaking, I handle activities related to operations, production, food safety, marketing, sales, and accounting.
Every day, I usually spend some time out on our ranches to make sure our standard operating procedures are being followed. This also gives me a nice opportunity for face time with our employees, which I often use for further education on food safety.
Several years ago when I'd go out to the ranches, employees were cautious and nervous about what I'd do or what I might see that was wrong. I'm happy to say that's changed for the better. They now realize we're a team, all working together toward common goals and looking out for one another. While I am looking for things that may need to be corrected, my ranch employees appreciate I'm a resource with a sincere desire to help them be better professionally and personally. I'm proud to say our team is highly motivated to do what's right. When they see things are running smoothly and safely, their faces beam with pride. Seeing that is one of the best parts of my job.
Q: You've been closely involved with STOP for a couple years now, and your partnership has included collaboration on the video featuring Rylee Gustafson and Lauren Bush. What has it meant to have these young ladies visit your farm and create that video?
A: That video project with LGMA + STOP was an incredibly rewarding experience and continues to be today.
On a professional level, making this video gave me a chance to help others learn more about the leafy greens industry, which is difficult to understand. I've been in the farming community for 20 years, and I'm still learning. Having Rylee and Lauren with us on the farm, explaining our industry, and showing them that we are families concerned about families who consume our products was deeply important to me. I wanted them to walk away feeling bonded to us because we truly care about what they went through. And I wanted them to have a strong sense of confidence and assurance that we're doing everything in our power to prevent foodborne illness experiences like theirs. I do think we accomplished that, and I'm so grateful for the opportunity.
On a personal level, I learned a tremendous amount from Rylee and Lauren. This was my first opportunity to meet victims of foodborne illness face-to-face. I had heard the statistics, number of states affected, and products that are recalled. But now I could put faces and emotions to all of that. It brought everything full circle for me. Rylee and Lauren are very special young ladies who touched my heart with their personal stories. And, since meeting them, my passion for food safety has definitely intensified.
Q: Specifically, how has that video helped promote food safety?
A: It's been a phenomenal training tool.
Before the video was available, I did my best to tell stories of foodborne illness to our employees. But, I couldn't quite get the message across effectively. With the video, they hear directly from real people whose lives have been impacted by foodborne illness in a powerful, emotional way that helps our employees take to heart the horrible health consequences of contaminated food.
I've been showing the video in my food safety training sessions. Grown men cry and they're speechless at the end. They now understand we aren't just following rules to improve our audit score. We're doing it to save lives and prevent others from having to endure what Rylee and Lauren did.
Q: You're an emotional guy who cares, and you talk about how important the "why" is as a driver of your work. What's your WHY?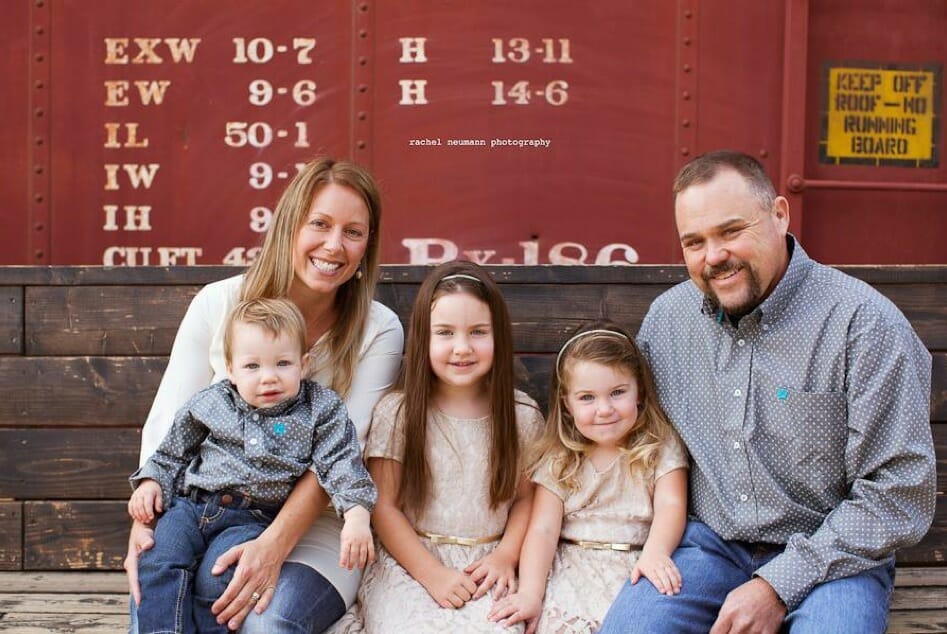 A: I'm a relatively new dad. My children's ages are 6, 4 and 2. As I listened intently to Rylee and Lauren during their visit to our farm, my immediate thought was my family.
My family is my big WHY.
On the weekends, my wife often gives me a "request list" for different items she'd like me to bring home. My family eats and enjoys our food, so I need to be confident our products are safe. And I am.
Although my wife and little ones are my top "WHY," it extends way beyond my family. As growers, shippers, and handlers of fresh produce, all of us at POVE have a moral obligation to use the best science and practices to deliver safe products to every single person who consumes them.
Q: Right now, how can STOP readers help promote food safety for leafy greens?
A: Educate, educate, educate.
Many people don't realize that thousands of people are working on California farms to put food safety first and provide safe and healthy leafy greens. Help us spread the word by encouraging people to visit www.lgma.ca.gov and check us out on Facebook, Twitter, and LinkedIn.
Another fantastic resource to dive in to and share is www.SafeLeafyGreens.com, a consumer-friendly site with helpful information on safe handling practices for greens from the store to your plate.
_____________________________________
Dan Sutton is General Manager for Pismo Oceano Vegetable Exchange (POVE), a grower-owned cooperative that grows fresh produce on the central coast of California. Dan's a graduate of Cal Poly San Luis Obispo where he earned a BS in Agribusiness and remains active in many of the college's organizations. In professional capacities, Dan also serves as Vice President of the San Luis Obispo County Farm Bureau Executive Committee and Communications Committee Chair for the California Leafy Greens Marketing Agreement Advisory Board. Outside of work, Dan enjoys coaching youth and high school baseball, along with service as a volunteer firefighter in San Luis Obispo County. Dan lives in San Luis Obispo, CA with his wife, April, and their three children, London (6), Danica (4), and Bronson (2).