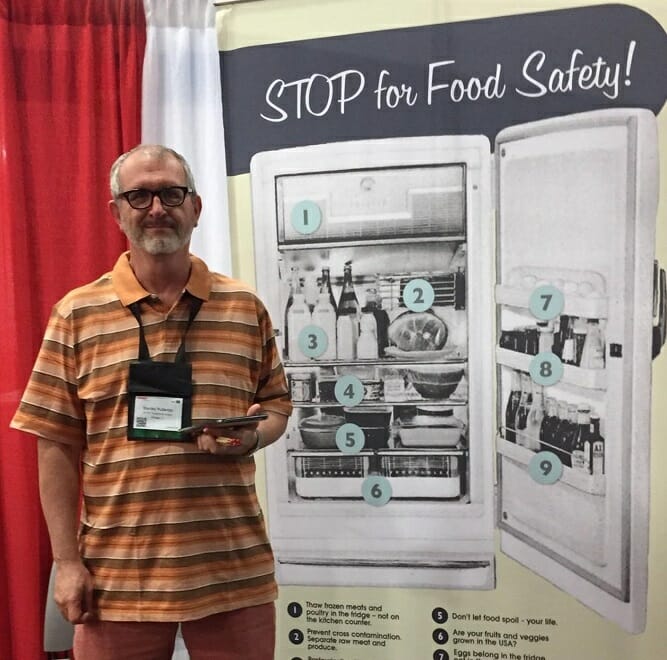 Thousands Flock to STOP's Booth at AARP Event to Get the Scoop on Food Safety
About 8,000 people participated in AARP's Annual Life@50+ National Event & Expo in Miami Beach, FL on May 14-16, 2015, and a big bunch of them are new friends of STOP Foodborne Illness.
With a simple goal of helping more mature adults and their families learn about the important role they can play in food safety, we're happy to report our presence at AARP made an impact. A big impact! Here's how your support of STOP helped us spread the word about how to prevent foodborne illness − at the conference, we gave out:
2,000+ STOP Foodborne Illness quick facts sheets on many topics including older adult food safety, spring cleaning your fridge, washing your hands, and more
2,000+ FDA information sheets covering topics like refrigeration/freezer storage chart, food safety for diabetics, selecting fresh + frozen seafood, the dangers of raw milk, and more
2,000 "Make Food Safety Your #1 Rule" rulers
800 "Wash Your Hands" pencils
750 safe cooking temperatures magnets
600 STOP logo pens
And nearly 300 people signed up to receive our e-Alerts (wow!). Plus, dozens told us they'd like to volunteer, learn about joining our Board, or be interviewed for our eNews.
All told, we think about 1/3 of the 8,000 folks strolling the conference stopped by, had a chat with us, and/or picked up some materials. We're so thrilled to have had so many quality interactions with new friends who now have more ammo to fight foodborne illness.
Now, we know you love stories. We sure do, too! Here are just a few short ones of people we had the pleasure of sharing some time with:
First, there's Cloetta. Cloetta, when reading our fact sheet on reactive arthritis saw herself in much of what that document says – and she became quite determined to speak with her doctor about it.
Next, there's Don. Don has been working for a food testing lab for over 30 years. He was excited to learn about STOP and wants to know ways he can help us soon when he retires.
Lastly, there's Carlos and Ana. These two were funny! When we invited them to sign up for our eAlerts, they asked: "What do we win for giving up our email address?" When Carlos and Ana learned these daily notices would give them timely warnings on harmful, recalled product that might be in their fridge or pantry, they said "that definitely sounds like we'd be winning something."
Thank You!
Without YOUR support, STOP wouldn't have been able to attend this valuable conference where we engaged with thousands more people on how they can take food safety into their own hands.
Thank you for making this possible.
Each and every day, all of us at STOP are tremendously grateful for your participation and support.
Before You Go …
Our fact sheets were so popular at AARP. Why not download one or two now for yourself and share them with someone you love?