She loved life and everyone loved her.
My name is Lisa and I live in Connecticut. On August 5, 1999 I lost my best friend, Lea to E. coli O157:H7. She wasn't just my best friend she was also my grandmother. I feel a little selfish calling her MY best friend since she was my 8-year-old son, Talon's, best friend; my mother, Linda's, best friend; my husband, Tim's, best friend; as well as probably hundreds of people's best friend.
She got sick the day after I gave birth to my 2nd son, Parker, and died two weeks later. He will never get to know her as his best friend as the rest of us did.
She worked every day at Dunkin Donuts near her home in New Hartford. Every day I would go to pick up my morning coffee. After she got out of work, she would pick up Talon (her number one man, as she called him) from school, camp, or daycare, depending on the year and season. They would go on little trips, play sports, make snowmen, or their favorite: go swimming. After work I would get to spend time talking to her about my day and hers. She made everything beautiful. She was beautiful inside and out. We are all so lost without her constant presence, without her voice, without her smile. She had so much she was looking forward to, baby sitting the new baby, Parker, dating again (after her divorce, which she was also planning), swimming all summer, going out to visit her sons in Ohio this summer. She just loved life and everyone loved her.
We don't know where she contracted this horrible bacterium, but we do know the devastation it leaves behind and we know how to do our best at preventing it.
She was cremated, so we are burying her this August 12th. She would have turned 70 this August 15th.
WE MISS HER EVERY DAY.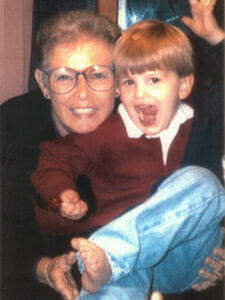 lea