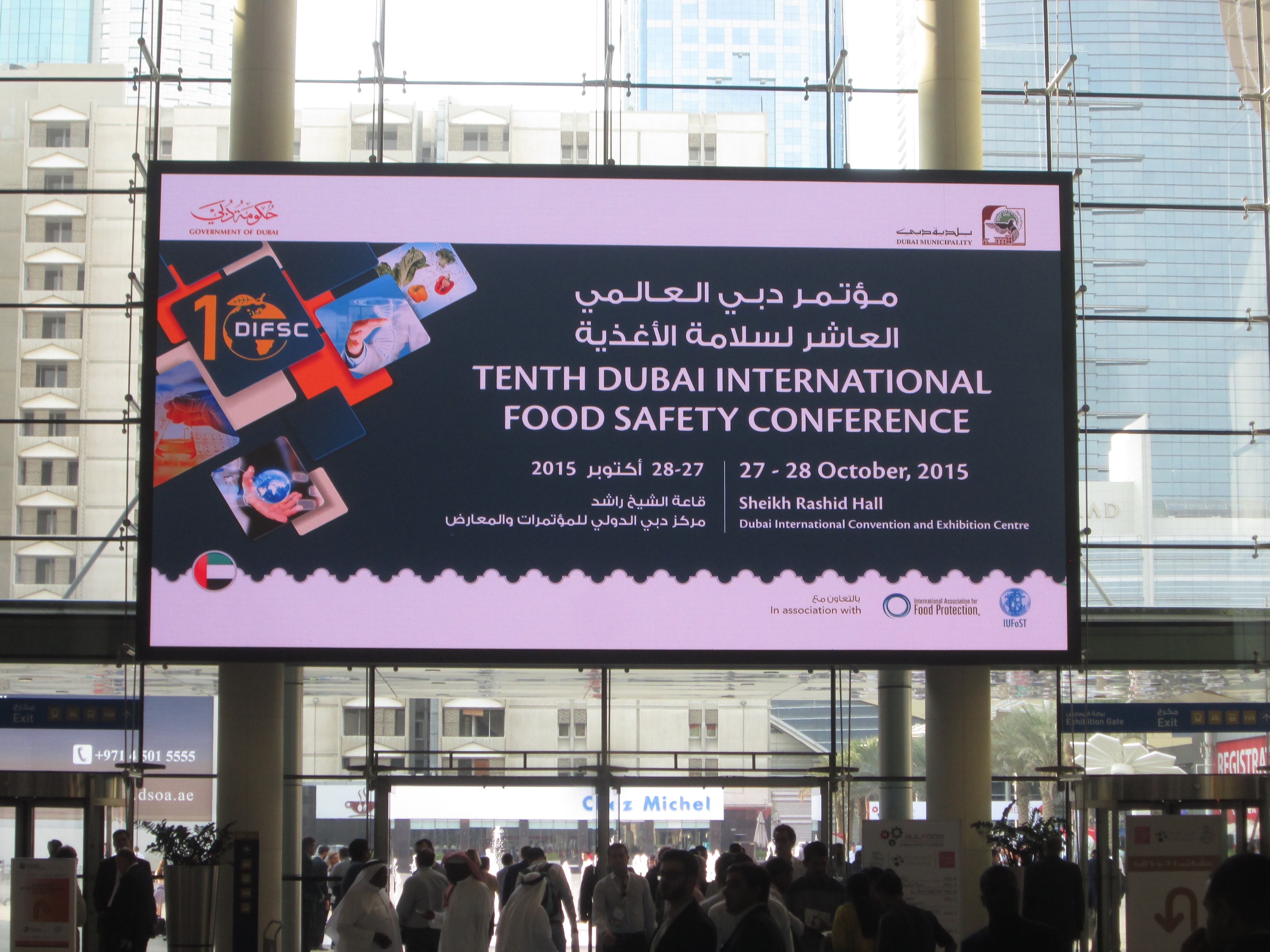 Two Fall Events Give STOP Foodborne Illness an Opportunity to Shine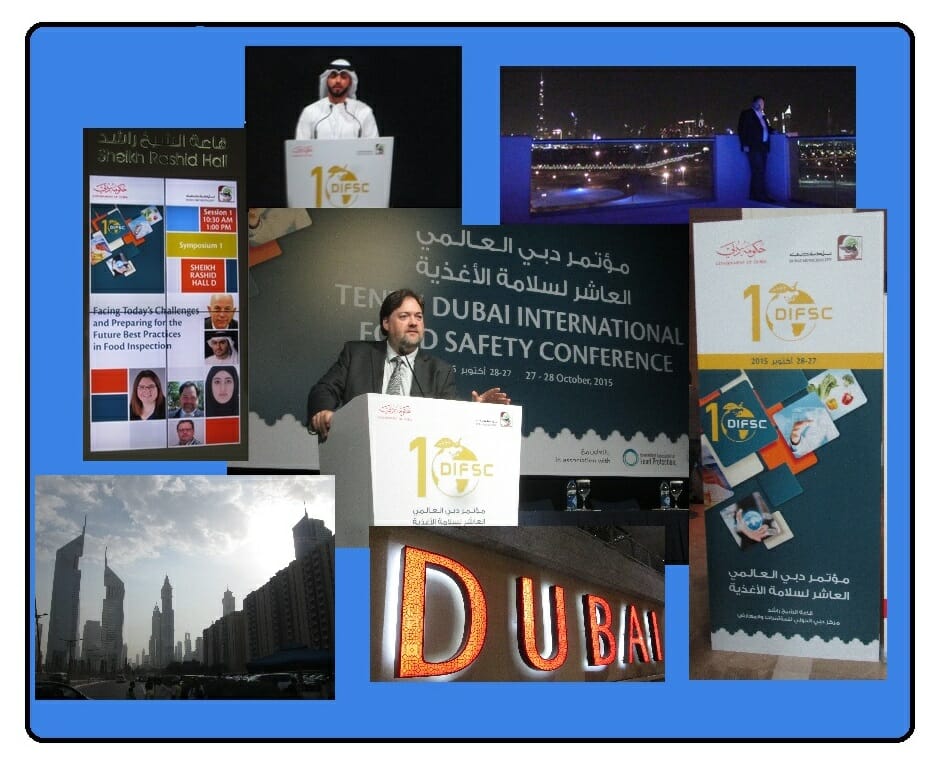 First, STOP Foodborne Illness was invited to speak at the 10th Dubai International Food Safety Conference in the United Arab Emirates, October 27-28.
Darin Detwiler, Senior Policy Coordinator, was the fortunate team member who was willing and able to accept that invitation on STOP's behalf. A featured symposium speaker, Darin was the first to speak after a welcome address by Sultan Ali Al Taher, Director of the Food Safety Department for the municipality of Dubai.
The focus of the session was on sharing best practices and innovative approaches to inspection with an aim to enhance compliance and improve food safety culture. Darin spoke on The Triangle of Influence on Today's Food Safety Culture.
Here are some images from Darin's trip. Click on the collage for a larger version.
Then, on November 17th, during the Food Safety Consortium conference, STOP Foodborne Illness was invited to have a fundraising event during which we were able to honor two of our favorite Food Safety Heroes — Nancy Donley and Frank Yiannas.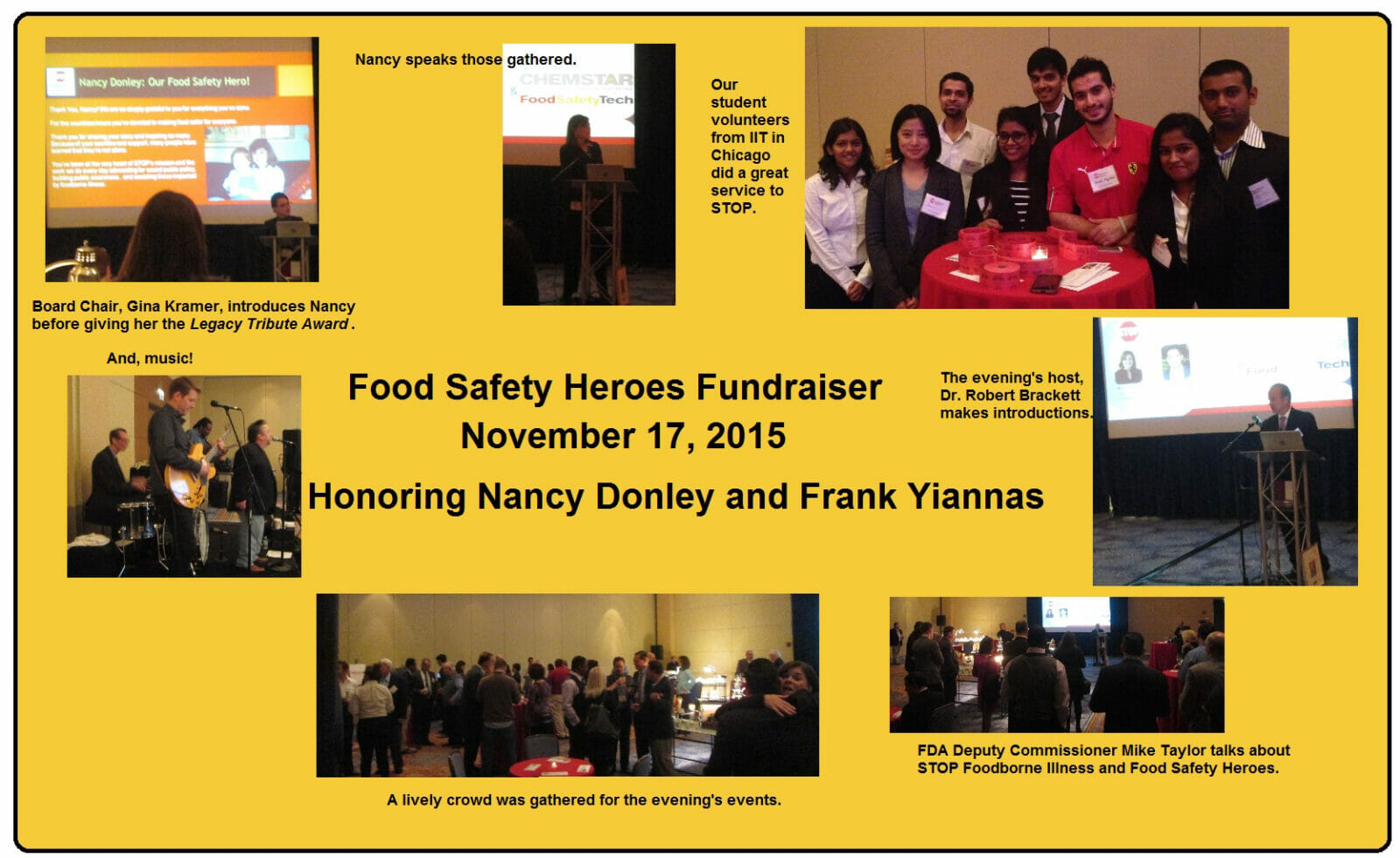 Nancy, as many people associated with STOP know, worked tirelessly for over 20 years helping make food safer for every American. After the death of her son, Alex, from E. coli O157:H7 Nancy took up STOP's mission to prevent illness and death from foodborne pathogens. She was presented with the Legacy Tribute Award. 
Frank Yiannas is the Vice President of Food Safety for the Walmart Corporation. He is known for passionately building unique partnerships and sharing innovative approaches to food safety. Frank is well known for escalating the notion of a "food safety culture." A long-time friend of STOP Foodborne Illness, Frank was named STOP's Industry Advocate Hero for 2015.  In addition to the award ceremony our event also had lively entertainment, a silent auction, cocktails, hors d'oeuvres and more!
Our great evening was made possible by the generosity of Chemstar, whose leading-edge technology provides automated food safety data collection and analysis so problems can be resolved within hours of detection. And by Food Safety Tech, an  industry-specific digital magazine that publishes news, technology, trends, regulations, and expert opinions on the safety, quality, and sustainability of food, and the food business.
Here are some images from our wonderful evening. Click on the collage for a larger version.