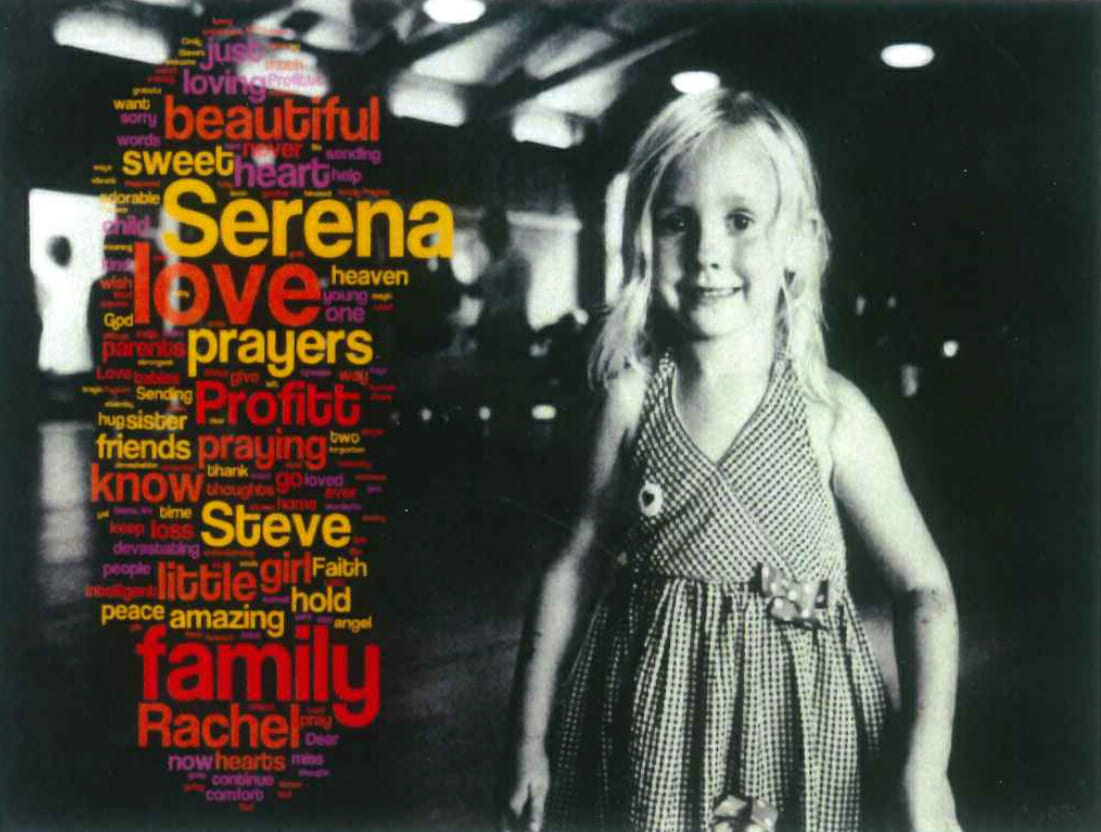 Spotlight on Sherri Profitt: "Losing Serena Has Left a Huge Hole in My Heart"
Grieving grandmother tells her story at Emergency Physicians 2016 conference
Losing a sweet, loving granddaughter at the tender age of five is tragic and simply heartbreaking on every level.
Sadly, this is what happened to Sherri Profitt in September 2014 when her beautiful granddaughter, Serena Faith, died a painful death due to E. coli food poisoning.
Since Serena's passing, Sherri has been fiercely active on the advocacy front. With tremendous tenacity and passion, she's been working diligently with legislators to pass Serena's Bill , a law that would require E. coli testing after four days of specific symptoms in children 18 and younger.
In our Q & A below with Sherri, you can catch up with this remarkable food safety warrior who recently attended an important conference with emergency room physicians to help save others from the same awful fate that she and her beloved family have endured.
Q: When STOP Foodborne Illness invited you to share your story at the American Conference of Emergency Physicians (ACEP) 2016 Conference in October, why did you say "yes" and what did you want to see happen?
A: I was so honored to be asked and immediately thought about how this was a PERFECT opportunity to tell a large group of emergency doctors about Serena. If she would've been treated and tested properly in the ER when we brought her to the hospital, she would've had a much better chance of survival.
My goal in attending was simple: I wanted to help make sure this horrible experience didn't happen to another family.
Losing Serena has left a huge hole in my heart. It's something that pains me deeply every single day. I don't want any other precious young child or family member to go through what we've gone through.
Q: Talking to a crowd of doctors about this tragedy in your life must've been hard. How did you prepare for it?
A: I've worked for the same restaurant for 21 years and have been telling Serena's story for two years. I've actually had a lot of practice because, fortunately, my employer enthusiastically supports Serena's Bill.
So, I've had many opportunities to talk about food safety and what happened with Serena through the work I do. That's been such a blessing, and I hope you'll take advantage of any and all opportunities you have to tell your story and promote safe food practices, too. All of the speaking I've done really helped me feel ready to go when STOP asked me to speak at the ACEP conference.
Q: Tell us about the reality of what you thought it'd be like versus what you experienced there? What was the hardest part? The easiest?
A: After talking about it with Stanley Rutledge, STOP's Community Coordinator, I figured being in STOP's booth would be a lot like being at a home and garden show. I knew I'd get people who'd just pass by, some who'd pick up literature, and some who'd want to talk and listen.
And that's pretty much how it went, and I loved every minute of it. It gave me the chance to connect with ER docs who have the power to save lives. With even just a little bit more knowledge about what to look for and the best actions to take, these physicians can help prevent other children (and adults) from losing their life to foodborne illness.
The hardest part?
Well, for me it was when a doctor would look deep into my eyes with compassion and empathy. The harsh reality of what Serena went through would flash back, and I'd feel hit with a ton of bricks remembering my "why" for being there.
By the third day, it was easier for me to talk. I became more comfortable with the whole experience and was buoyed knowing my pleas for their help were being taken to heart by dozens of ER physicians I talked with. So many of them pledged to do more to save people from foodborne disease in their day-to-day work at the hospital. I felt so gratified and thankful that STOP gave me this opportunity.
Q: How do you think your message was received? Can you pinpoint even one person who really made an impact on you?
A: I feel the message of our Stop Foodborne Illness booth was amazing!
What we were doing really resonated with these doctors. It made them think and it inspired them to do better. We weren't selling anything like other booths. We were giving out LIFE-SAVING information and these docs listened. Serena's story impacted many of them. It gives me chills just thinking about it all.
There were two physicians who, in my mind, were touched the most.
The first one shared with me that he'd unfortunately sent a child home with symptoms of foodborne illness without testing. He was genuinely heartbroken at the thought that this young person might've suffered the same way Serena did.
The second was a younger doc who looked a lot like George Clooney. He made my day when he brought a fellow colleague back to our booth to hear Serena's story. To say I was moved is an understatement! He took our message seriously and wanted to immediately spread the word. Such a beautiful thing.
And I also met a woman on the plane coming home who had never thought about washing her produce (especially watermelon). After hearing some tips from me, I'm sure she will now.
Honestly, I had no idea there would be doctors from all over the world. It was moving for me to be a part of this event, and their enthusiastic responses further encourage me to keep educating and promoting food safety. One thing I'll be doing soon is mailing Serena's postcard with facts on her story and foodborne illness to hospitals throughout Oregon. The picture above is the front of the postcard and the back is over to the right.
Q: What is the status of Serena's Bill?
A: While at this conference, my mom contacted her state representative, Mark Johnson, in Oregon to get some answers. His next step is to reintroduce the bill in 2017.
My hope is that he, along with my state representative, David Gomberg, who wrote the bill, will work on it together and get it PASSED. Unfortunately, we've had some road bumps with it. With the presidential election now over, I'll be pursuing this with serious energy and would LOVE your support, too. There are two things you can do right now to help save lives.
First, you can visit our Facebook page and read more about all we're doing and how you can be involved. Next, please send an email to Representative Mitch Greenlick (Rep.MitchGreenlick@state.or.us) urging his support of Serena's Bill. Representative Greenlick is Chairman of the House Committee on Health Care.
THANK YOU so much in advance for locking arms with me in my efforts. Together, I know we can get this important bill passed!
Q: Your husband, John, also attended the conference. What did this experience mean to him?
A: For John, it gave him the chance to reach out to others who can make a positive difference and save lives. It meant the ability to share stories with doctors from other countries and help make them aware that the very young and old are especially in danger of contracting a foodborne illness. It was empowering for John, and he looks forward to doing this more in the future.
_____________________________________________________________________________
Learn more about Sherri and Serena's story.
A Final Note: We are so thankful for Sherri and John's service to Stop Foodborne Illness! Their willingness to take some time out of their busy lives and come to Las Vegas with us is invaluable – they are personable, caring, straightforward folks who did not shy away from doctors and others who may have started a conversation with a little skepticism about who we were, why we were there, or what the Proffits were all about. Time and again, I saw Sherri's nurturing words and relaxed posture change the physical and emotional responses of people visiting our booth. Together, she and John helped Stop Foodborne Illness nudge forward the greater conversation about the medical establishment considering the possibility of foodborne illness and the consequences of ignoring it.
~Stanley Rutledge, Community Coordinator