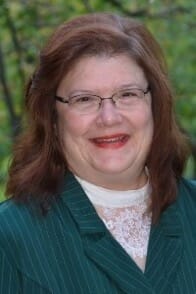 Meet Christine Venema: "Are You Washing the 10 Dirtiest Utensils in Your Kitchen?"
To say Christine Venema is passionate about food safety is truly a BIG understatement.
This smart, lovely lady is an Educator at Michigan State University's (MSU) Extension Service with a focus on food safety, and she's a beloved friend of Stop Foodborne Illness. Every day, Christine is in the trenches helping people make good choices about their food safety behaviors to prevent sickness and death from food poisoning.
And that's why we're so excited to bring you this Q & A with Christine!
As a fellow food safety warrior, you'll want to carve out a few minutes right now to learn more about Christine, what she does at MSU, and take action on ONE important practice she hopes you'll start today.
Q: Tell us about MSU Extension. What is it and what does it do?
A: MSU Extension's mission is to help people improve their lives through an educational process that applies knowledge to critical issues, needs, and opportunities. It provides non-formal education and learning activities to people throughout the country—to farmers and other residents of rural communities as well as people living in urban areas. Extension—also known as "Extension Service (ES)"—translates knowledge gained from research and education into information for people to use to create positive change in their lives.
Let me share a little background on how ES came to be.
The United States Department of Agriculture's (USDA) National Institute of Food and Agriculture is one of four agencies that make up the USDA Research, Education, and Economics division. The USDA was restructured as a part of the 2008 Farm Bill. The USDA National Institute of Food and Agriculture was specifically established in the Food Conservation and Energy Act of 2008.
However, ES was originally established in 1914 as part of the Smith-Lever Act, which began the partnership between the USDA and the land-grant universities of various states. In 1862 the Land-Grant College Act of 1862 and 1890 (Morrill Act) established the land-grant colleges and universities. Each state received money from the sale of federal land to establish colleges whose focus was agriculture. Those states that already had private colleges or universities were given money to establish schools focusing on agriculture and mechanic arts.
Legislation in the states further established the third legal funding source for ES as local government.
Although the Morrill Act and the Smith-Lever Acts established the link between the USDA and land-grant colleges/universities, additional legislation created a link between the Tribal Nations and the USDA as well.
So, the bottom line is this: Every state has an ES connected to a land-grant college or university. However, it may have a different title like "cooperative extension service" and may have different programs/offerings, as well.
MSU's Extension was organized in 1912 when the Michigan legislature authorized county boards of supervisors to appropriate funds and levy taxes to further the teachings by Extension. It uses all three funding sources of federal government, state government, and local county boards of commission. The federal portion of the funding links Extension to the USDA in working on national needs and trends. The state funding focuses on the needs of the people of Michigan. The local funding ensures that Extension is helping with local problems and issues in specific Michigan communities. Additional funding comes from foundations, private industries, and other government entities to help increase Extension's impact.
Now, for the fun part: Let's dive in to what an ES does!
Extension offers non-formal educational programming with common themes that programs originate from, which are agriculture and natural resources; youth development (4-H); community and economic development; and consumer and family education. Being non-formal in nature, Extension agents use a variety of information systems to deliver the education. These educational opportunities often include community forums, one-on-one and group teaching, satellite downlinks, the World Wide Web, computer databases, desktop video conferencing, software packages, consumer bulletins, and research reports.
Q: What is your position and how did you become interested in food safety, preservation, and health?
A: I'm an Extension Educator with an emphasis on food safety. I've made food safety a priority because, without safe food, people can't be the best they can be.
As an Extension Educator with food safety expertise, I teach people about food safety, food preservation, nutrition, and health. My interest in these areas goes back to my undergraduate years when I got a bachelor's degree in human ecology with concentrations in nutrition and education. Teaching is definitely in my blood. I've been teaching since I was 16 when I taught water safety at a pool, and I love it!
Q: Who in your life influenced your decision to become an educator?
A: I grew up with parents who were both teachers, so there was a VERY strong influence in our household on education. My father was a vocational agriculture teacher and my mother was a home economics teacher.
Q: What is one thing you wish every Michigander knew about food safety? (And, of course, all of our readers!)
A: The ONE thing I wish everyone knew about food safety is that food poisoning is PREVENTABLE!
There's no reason for 1 out of 6 people (about 48 million) to get sick because of a foodborne illness this year. That's the estimate we have from the Centers for Disease Control (CDC).
And one question I'd like to ask each of your readers is this:
"Are you washing the 10 dirtiest utensils in your kitchen?"
You've probably guessed what I'm referring to. Yes, I'm talking about your hands! Well, technically, the 10 fingers on your hands, of course!
Keeping your hands clean when you're handling food is one of the simplest and most effective things you can do to PREVENT foodborne illness. By washing your hands, you can STOP the transmission of many foodborne pathogens.
So, I hope you will make a commitment to proper hand washing today. It's so easy, yet it has potential to save your life.
Can you tell I'm super passionate about food safety and hand washing?!
Q: At MSU Extension, what does your best day look like?
A: One big reason I like what I do is the flexibility and variety my job offers. One day I may be teaching an all-day food safety course to food service managers. On another day, I may be doing food preservation demonstrations at a farmers' market. Or, on some days, I could be in the office answering consumer food safety calls during the day and teaching a Michigan Cottage Food Law or Cooking for Crowds class for nonprofit organizations at night.
As a member of the MSU Extension Food Safety Team, I work on a variety of stimulating projects that help people up their food safety game. In addition to all the teaching I do, I'm involved in other work that often includes development of food safety curriculum for day care providers and school gardens; writing of food safety news articles; and creating food safety consumer fact sheets/bulletins. 
Q: How did you come to know about Stop Foodborne Illness?
A: I first become aware of Stop Foodborne Illness via the Partnership for Food Safety. Then, at an International Association of Food Protection meeting, Stop Foodborne Illness had an information table where I picked up some literature. Finally, I met Stanley Rutledge, Community Coordinator for Stop Foodborne Illness, at an MSU program called Creating a Food Safety Culture Executive Education in 2017.
I'm very impressed with what Stop Foodborne Illness does to not only help people learn how to prevent foodborne disease but how victims can get the support and resources they need if they've been affected (so important!).
Q: In this brand new year, how would you like to see lives and communities improved as it relates to food safety?
A: Boy, this is tough! There's so much I'd like to see happen. Here's a short list, though:
First, I'd like to increase awareness that hand washing is key to disease and foodborne illness prevention.
Next, I'd like to increase awareness that foodborne illness is preventable with knowledge. People oftentimes simply don't know the basics of food safety.
Lastly, I'd like to increase safe food practices across the board—in industry, communities, food delivery systems (pantries/food banks/grocery stores), on the farm, and in homes.
---
Christine Venema is an Educator at Michigan State University's (MSU) Extension Service. She has spent the last 21 years of her career at MSU with an expertise in food safety, food preservation, nutrition, and health. Christine has earned a Bachelor's degree in Human Ecology, a Master of Arts in Curriculum and Instruction, a Master of Science in Food Safety (2018), and a Certification in International Food Law, all from Michigan State University, as well as a Doctorate of Education (2018) from Capella University. In her free time, Christine enjoys tending her garden raising her own fresh veggies and fruit, and knitting. A former puppy-raiser for Leader Dogs for the Blind (Rochester, MI), Christine plans to return to that upon graduation later this year. Additionally, she has three dogs at home that keep her on the go.