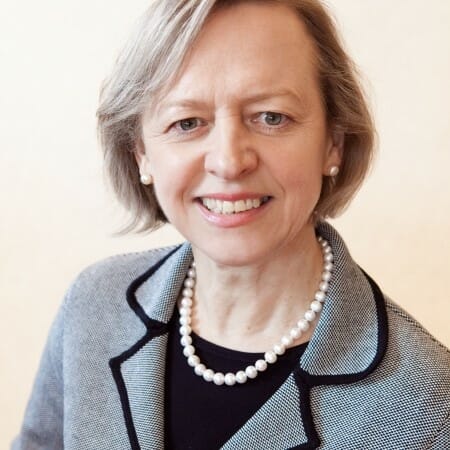 Meet Maria Krysciak – Your Operations Director at STOP Foodborne Illness
Keeping a nonprofit running like a well-oiled machine is no easy task.
But, for Maria Krysciak, she loves the daily challenge of managing countless activities that help STOP Foodborne Illness smoothly conduct its work in the areas of administration, accounting, payroll,  budgeting, human resources, and more.
In today's special Q & A with Maria, you'll step inside her busy world as STOP's Operations Director and get some heartfelt thoughts she throws out to our beloved victims and supporters.
Q: Maria, how did you come to work at STOP Foodborne Illness?
A: Back in April 2010, I began as a part-time bookkeeper. Just a few months later in November, Deirdre Schlunegger, our CEO, offered me a full-time position as Operations Manager. I was thrilled! Two years later I received a promotion to Operations Director.
Every work day morning, when I walk through our office doors, I feel incredibly honored and blessed to be serving others through our important food safety work.
Q: As Operations Director, what kinds of activities fill your day?
A: There are quite a few. The bulk of what I do includes typical operations and financial/accounting tasks. Handling accounts receivables/payables, payroll, budget monitoring, running reports, data entry, and human resources activities make up most of my day.
I'm also the go-to for administrative support for our CEO, Board of Directors, and staff.
Q: What do you like to do best and why?
A: If I had to narrow it down, I'd say the accounting activities.
Whether it's my work in Quick Books, processing accounts receivables/payables, depositing donations, creating reports, or making sure the budget is on track, I enjoy these tasks immensely.
Having done accounting work for 30 years of my life now, it's a big part of me and who I am. You might even say I'm a little obsessed with it! OK, obsessed may be too strong of a word. But I'm pretty darn passionate about it, which is a good thing in this kind of role.
Q: How does working at STOP Foodborne Illness impact you when it comes to food safety?
A: Without a doubt, working here offers me daily motivation to be diligent in handling and preparing my food safely.
I've learned so much over the past five years and have made many positive changes – especially when cooking at home. Although for years I'd been putting many food safety protocols into practice, I've really tightened them up. For instance, prior to joining STOP Foodborne Illness, I didn't worry about giving pre-washed produce a second washing. Now? You bet I do. I'm much more aware of the potential for dangerous bacteria even on pre-washed produce. And I'm now very strict about cooking meat by the exact rule for a safe internal temperature. So, for hamburgers, I cook them until my thermometer reads 160 (°F) every time. That's something I didn't always do before.
Q: Here in 2015, what's one thing you're really focused on in your work to help advance the mission of STOP Foodborne Illness?
A: These days I'm laser focused on growing greater financial support. It's something all of us at STOP are collectively working to accomplish because we all want to do more to prevent foodborne illness and support those affected.
Q: What would you like to share with people who've been personally affected by a foodborne illness?
A: Whenever I read a story about a victim, my heart truly breaks. I hate to see how much suffering people go through because of contaminated food.
I'm so sorry you had to endure the pain and angst that comes along with it. If you're in need of any kind of support, please reach out to STOP Foodborne Illness. We're here for you.
So many people turn their tragedy into positive action through advocacy and being there for others. STOP Foodborne Illness is very fortunate to have hundreds of these angels near and dear to us. To these brave and wonderful people, thank you for rising up to give of your time, effort, and resources. You're doing so much good to help make sure no one else goes through what you've been through.
Thank you again – to every victim and all of our supporters.
You inspire me every day.
About Maria Krysciak
Maria Krysciak began with STOP Foodborne Illness in April 2010 serving as a part-time bookkeeper. Prior to joining STOP, Maria worked at the Chicago Convention and Tourism Bureau (CCTB). She has nearly 30 years of experience in accounting, administrative and member services, and grant administration. Maria is a graduate of Northwestern Business College in Chicago. When she's not working at STOP, Maria enjoys gardening, going for long walks, and spending time with her husband and two teenage sons.
---