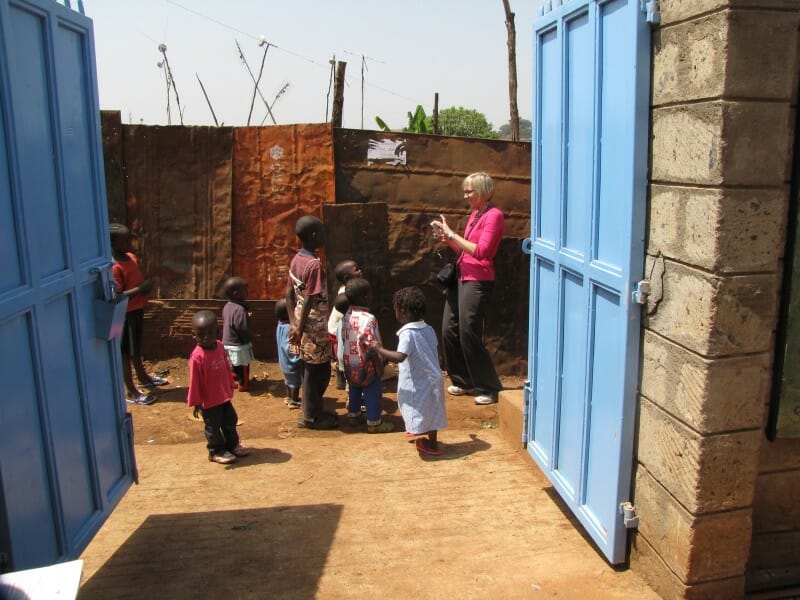 'For Me, It's All About Helping People': A Food Safety Conversation with Dana Pitts at the CDC
Unless you're new to STOP Foodborne Illness, you're undoubtedly familiar with STOP's long working history with the Centers for Disease Control and Prevention (CDC). Given our close partnership, we're spotlighting how STOP collaborates with the CDC for National Public Health Week.
When you think about the Centers for Disease Control and Prevention(CDC), you probably wonder about how such a massive operation is run.
Keeping Americans safe from health, safety, and security threats, 24/7, in the U.S. or abroad, is a very big job, indeed. It's nice to know that you can easily connect with knowledgeable, dedicated, caring—and very friendly–partners inside the many CDC offices worldwide, like Dana Pitts.
Dana, who has an MPH and serves as Associate Director for Communications in CDC's Division of Foodborne, Waterborne, and Environmental Diseases, works at the crossroads of public health, food safety, and communications.
In today's interview, Dana helps you understand the CDC's critical role in food safety and reflects on how she feels STOP helps to super-charge the CDC's work.
Q: First, let's get to know more about you, Dana. How did your career in food safety begin?
A: Well, let's see, my path was not straightforward or typical of most people working in a science-based food safety program, such as the one we have at CDC.
Food safety is a very broad field with many complex issues. The road to my current job at CDC was winding, and prepared me for what I do now in a way that I did not plan. My career began as a Foreign Service Officer for the U.S. Department of State where I worked overseas covering political and economic issues. Following that, I earned a Master's degree in public health at UCLA in policy and management. The program prepared me for a career in public health that has included policy and advocacy, marketing and media relations, as well as clinical research, biotechnology, and even health insurance and reimbursement. In every job, I use a common approach: dig for details that are often overlooked. Once I understand and validate the details, I can connect them to the bigger picture.
I started in CDC's Center for Global Health where I led communications for an innovative program called Global Disease Detection that protects people from threats, such as dangerous infectious diseases. Working for CDC globally, reinforced the importance of safe food and water for me. Four years ago, I moved to the division that covers foodborne, waterborne, and environmental diseases to serve as their lead communicator.
I use my expertise to frame the complexities of food safety in a way that is approachable to CDC's many different audiences—including those that are domestic or international and those that are science-savvy–or not.
Working with groups like STOP has helped me to put our "data-driven" research findings into content that people can connect with.
I have three children, and since coming to this position, I have made significant changes in how I approach food safety at home, in stores, or at restaurants. While food safety is clearly an industry responsibility, I am much more aware of the things that I can do as a consumer. At our house, raw cookie dough is off-limits. And, because cooking is a shared responsibility, we all use food thermometers, including after microwaving. My kids are true advocates of good kitchen practices and are always interested in recalls and outbreaks. I admit, it is my husband that we keep our eyes on. He is great when it comes to using a meat thermometer, but he almost always uses the same knife for chopping veggies after cutting raw chicken—true story. But, we keep catching him.
Q: Your work is multi-faceted, requiring so many skills. If you were to pick one talent that helps you most in your work, what would it be?
A: Over time, I've realized that one of my greatest strengths is being a good listener.
So often people don't feel like they're being heard. This can have disastrous consequences. Important information can get missed and relationships can get strained. I strive to understand other perspectives first and really get "locked in" to what the other person is telling me. I also make it a point to seek out feedback from partners, like STOP, who can contribute meaningfully to my work. This may be the most valuable asset I bring to the CDC. The world is too interconnected to represent information in silos.
To say we are busy is an understatement. Since working here, we've published the first new estimates of foodborne illness in over a decade, helped respond to cholera in Haiti, and investigated a major national outbreak of fungal meningitis linked to contaminated steroid medication.
Q: What makes you want to get out of bed every morning and head to work?
A: Food safety includes much more than a focus on pathogens. Food is primal and has an emotional connection. It touches each one of us. We know that food poisoning is all too common. It can happen anywhere, to anyone, and from foods we might not expect.
What motivated me to pursue this path—and, frankly, what sustains me every day—is the people that I help either directly or indirectly. For instance, those who are reading this article as well as people everywhere who count on the CDC to protect and serve them and their families.
It's all about helping people for me.
Q: From a food safety standpoint, paint some broad strokes on what the CDC does.
A: When you get down to basics, the CDC's food safety work is about tracking and analyzing cases of illness. This helps us understand who's getting sick and what similarities exist when a foodborne illness or outbreak occurs. From there, we take that data and apply solutions to whole communities, or even countries.
But, beyond the statistics is something I keep close to my heart: every number that the CDC counts is a person with a story. Each number represents a life that's affected, along with a person's family and community. We care very much about that at the CDC. "People First" could easily be our tagline.
Q: In your role, what's a "day in the life" like for you?
A: It's an adventure!
First, let me give you some background information: our division has 300+ people, from administrators to scientists. We represent a part of food safety work at the CDC, dealing only with enteric bacterial diseases (those primarily affecting the intestines). There are many other offices focused on food safety in viral and parasitic diseases, environmental health, and global health. One of our CDC Director's priorities is Food Safety so it is important to communicate our integrated work—found all over our agency—as a whole.
My number one goal is to work strategically, communicating before a crisis. So I focus on communicating our work in three primary directions: first, within our division (which includes foodborne as well as waterborne and environmental diseases); second, to other areas of CDC along with regulatory partners; and third, to non-government partners and audiences, like STOP, the media, policy makers, and consumers.
In any given day, I am communicating in all these directions at once. But, regardless of what is on my prioritized "To Do" list, it can be preempted by a crisis. That's the adventure! My goal is to avoid crisis mode and get ahead of problems. I define priorities based on partners' feedback, media monitoring, website and social media metrics, and internal communication.
I create internal communications that are focused on building family and creating esprit de corps. For example, every Friday my team publishes a newsletter about activities in the division, such as outbreak investigations, meetings, new publications, awards, and even what we call, Friday Fun. Believe it or not, at CDC with so many people focused exclusively on data collection and analysis, they don't get much time to connect what they do to the larger issues surrounding food safety. Sometimes people don't even know what the person is doing in the cube next to them. What I call "internal communication" is meant to connect us by our common themes and make what we do personal.
I create external communication to get the word out to consumers and the various publics that we serve, for instance, when we release on data on foodborne illness outbreaks. As Dr. Frieden, Director of the CDC, has said, "Information is our most valuable product." So, we use websites, social media, and traditional media to communicate our messages in a clear and meaningful manner.
Partner communications play a big role in extending our reach. Regulatory partners like the Food and Drug Administration (FDA) and advocacy partners like STOP help us reach thousands more people by linking their communications to ours. We've written several blog postings on foodsafety.gov.
You might guess that my job is solely responding to outbreaks. But, I actually try to spend much of my time communicating BEFORE outbreaks. For example, food poisoning is a preventable public health problem. Knowing which foods and germs make people sick is a great way to reduce outbreaks.
And, I also spend a good chunk of time communicating within the CDC about overarching policy objectives and global health issues. This means that I'm in near-constant contact with federal, industry, and consumer partners like STOP.
As you can see, every day is an adventure.
Q: What do you enjoy most about your work and why?
A: I'd have to say it's working for an agency that's trusted based on data and information it produces.
At the CDC, we're counted on for getting things right. When our information is shared as "According to the CDC …" there's tremendous pressure, but there's also pride knowing we've worked diligently to get accurate data out that can prevent harm and save lives.
Q: What's the biggest obstacle in your work?
A: CDC's greatest asset—its depth and breadth of expertise—is my greatest challenge.
Bringing the whole realm of the CDC to our communications is important. I spend a lot of time brainstorming about how to best deliver that. It's a herculean task!
I'm happy to say, though, that it's doable. This past December, our team's external newsletter—one on food safety that has about 35,000 subscribers– promoted an upcoming Twitter chat on holiday food safety hosted by CDC and including experts from within CDC, FDA and USDA, industry, and media. The chat was wildly successful; in fact, it had the most tweets of any CDC chat up to that time. I attribute its success to strategic communication: timely and interesting topic, knowledgeable participants, targeted promotions using digital and social media—and, using the depth and breadth of CDC's expertise and our host of partners.
Q: When it comes to food safety, what's one problem that really gnaws at you?
A: At the top of my list is the challenge of creating content in a way that's relevant and interesting to consumers AND can affect change.
CDC is a scientific organization, so our information tends to be geared toward scientific audiences, particularly since it's featured in peer-reviewed publications. Take, Salmonella, a major cause of food poisoning in the US, causing an estimated 1.2 million illnesses, 23,000 hospitalizations, and 450 deaths. I worry that consumers don't understand the full picture of Salmonella and other foodborne illnesses because much of CDC's content hasn't been written for the general public. But we are changing that.
For instance, CDC recently published a first-of-its kind, online document with forty years of Salmonella data (Atlas of Salmonella in the United States, 1968-2011). My team and other internal CDC partners created and executed a marketing plan to ensure that this resource was promoted and understood by a wider array of people than normally would seek out this report. We wanted people to understand the importance of serotypes and other scientific information about Salmonella through short stories about several of the serotypes. When first released, the media was quick to disburse the information. Within hours, data showed that the Atlas reached the public: the audience that CDC wants to be informed about Salmonella.
When it comes to food safety, we know the most powerful messages come from folks sharing their stories. Going forward, I'd love to see the CDC incorporate more story-based content in its communications so we can better connect with consumers.
Q: Tagging on to your thoughts above, what do you think STOP can do to help?
A: There's no doubt that STOP is uniquely positioned to help us make major progress on this front. I envision working more closely with STOP to share more stories of people affected by foodborne illness on CDC's communication platforms.
Q: So far, has the CDC done anything with stories that you're especially proud of?
A: We have, and it's one of my favorite projects. We used people and their stories to explain a CDC project in Kenya. This was the inspiration for a very moving video that I worked on.
Most of the time, I'm focusing on the data, not the stories. For me, as a professional communicator— and for all of us—we understand the work of an organization so much better when we understand the people involved.
Q: Is there a personal foodborne illness story that hits close to home for you?
A: Ah yes, sadly there is.
In my work, I'm dealing with statistics all the time. But, one day, those numbers became very personal to me.
Two years ago, my neighbor, a friend of mine, became ill with food poisoning. She suffered a very severe case that landed her in the hospital. That was bad enough. But, what made matters worse is that she was undergoing cancer treatment at the time, which I was told had to be halted, so she could recuperate from the internal damage caused by her foodborne illness.
Soon after stopping her cancer therapy, she died. While the doctors did not attribute her death directly to foodborne illness, the quality of her life quickly diminished.
Every year, about 48 million of us, about one in six people in the United States, get sick from eating contaminated food—it could be you, your spouse, your kids, your parents, or other loved ones. Sometimes foods we count on for good health are contaminated with germs that cause illness.
After watching my neighbor, my work took on new meaning and significance because it became much more personal.
Q: Going forward, how do you see the CDC building upon its longstanding partnership with STOP?
A: Over the past few years, new leadership has come on at the CDC and STOP. This gives fresh potential for strengthening the partnership and creating a more, strategic approach.
STOP has provided beautiful and compelling stories that personalize and contribute to the effectiveness of CDC's food safety campaign. The focus is changing, so it's not exclusively about data collection and reporting.
As an aside, I want to commend STOP on their efforts in reaching out to other partners, like the California Leafy Green Products Handler Marketing Agreement. (Check out our powerful article Facing Up to Food Safety, which links food poisoning victims back to industry folks who are making significant changes to improve food safety.)
Q: Is there one project you've worked on with STOP that stands out as the best so far?
A: I really love the work we did with our last Food Safety Vital Signs initiative, which focused on Listeria food poisoning. We did a phenomenal job, I think, of telling people's stories to help resonate more closely with consumers.
Q: What's your personal message to STOP readers?
A: Unlike many diseases, foodborne illness is highly preventable. Some of the most basic efforts—like washing hands thoroughly before handling food– could make major differences in preventing food poisoning. Having seen my close friend and neighbor's battle with cancer complicated by a food poisoning event, I'm even more committed to spreading prevention messages.
About Dana Pitts, MPH
Dana Pitts, MPH, leads scientific communications for the Division of Foodborne, Waterborne and Environmental Diseases at the Centers for Disease Control and Prevention (CDC). Dana came to CDC as a policy analyst in the Center for Global Health and later led communications for CDC's Division of Global Disease Detection and Emergency Response. Beginning her career as a Foreign Service Officer at the U.S. Department of State, she's worked for over 20 years building strategic communications in a variety of fields and settings, including academia and private industry. Dana completed a Master of Public Health (MPH) from the University of California, Los Angeles (UCLA) in policy and management.
Dana lives in Georgia with her family. In her free time she tries to keep up with her three children and sneaks away from time to time to read a good book.
Additional Resources:
CDC:
http://www.cdc.gov/
Food Safety:
http://www.cdc.gov/vitalsigns/foodsafety/index.html
http://www.cdc.gov/foodsafety/
http://www.foodsafety.gov/
Global Health:
http://www.cdc.gov/globalhealth/index.html
http://www.cdc.gov/globalhealth/video/gdd/diseasedetectives.htm
http://www.cdc.gov/globalhealth/gdder/