Stop Foodborne Illness Staff + Volunteers Promote Food Safety to Thousands at 2018 IAFP Conference
Connecting with food safety folks across the globe to discuss and strategize on the best ways to prevent foodborne illness is something we LOVE to do at Stop Foodborne Illness. And that's why our participation at the 2018 Annual Meeting of the International Association for Food Protection (IAFP) was so important.
From July 8-11 in Salt Lake City, UT, your support helped several Stop staffers man a busy booth in the IAFP exhibition hall. Every year, IAFP hosts more than 3,600 of the top industry, academic, and governmental food safety professionals from six continents at their signature conference. This renowned event has become the leading food safety conference worldwide boasting the highest quality and relevance of food safety experts, presenters, and exhibits.
One incredibly special highlight of the conference was presentation of our new Dave Theno Food Safety Fellowship Award. Ms. Emily Forauer, a graduate of the University of Connecticut, is the recipient of our inaugural award, and we couldn't be more thrilled!
This fellowship is a partnership between Stop Foodborne Illness and Michigan State University (MSU)'s Online Food Safety Program. As our Dave Theno Food Safety Fellow, Emily works in our office 35 hours per week spearheading two key projects and participating in a wide variety of food safety activities.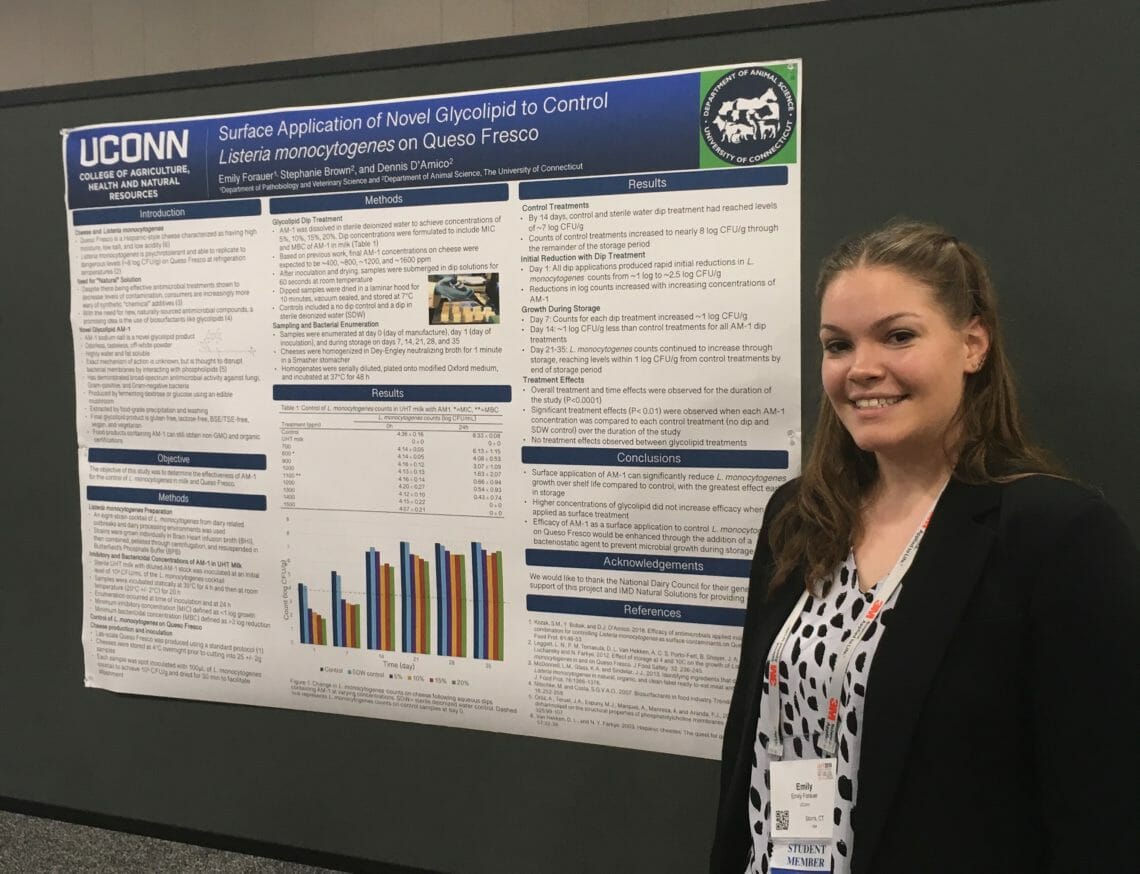 While at IAFP, Emily enjoyed her experience presenting a poster on the efficacy of an antimicrobial glycolipid to help control growth of Listeria monocytogenes in queso fresco. Emily also learned a lot from the lectures she participated in, telling us, "The many sessions on microbial testing and whole genome sequencing got me very excited about the future of food safety and outbreak traceability. And, of course, receiving the first-ever Dave Theno Food Safety Fellowship is a huge honor!"
"We're so excited about Emily joining our team and for being a valuable part of this first-year collaboration with MSU," shared Deirdre Schlunegger, Stop Foodborne Illness CEO. "A big thank you goes out to all our generous donors. Without their support, none of this would be possible."
The IAFP conference provided a highly-interactive platform for Stop Foodborne Illness to fulfill key components of our mission and deliver on important outcomes including:
Talking at our booth with hundreds of passersby to increase visibility of our work and engage with professionals who can partner with us in the future on programs to promote food safety and help victims. For example, though many people have heard our name, they aren't familiar with our stories, some of which have been included in videos we can share. Those videos are great resources for strengthening the food safety culture of a company or organization.
Learning and growing our expertise in emerging food safety issues and best practices used to prevent foodborne disease and save lives. For example, design, development, and technology of microbiological innovations are expanding; we now have our finger on the pulse of many of these cutting-edge changes.
Networking to gain new insights and foster dynamic, forward-thinking relationships with food safety experts in academia, industry, and government. For example, questions often arise for which we have no expertise (such as those related to regulatory or science issues). But, with help from our ever-growing network of accomplished professionals, we're always able to quickly find the best answer.
Next year we'll be in Louisville, Kentucky for the 2019 IAFP Annual Meeting from July 21-24. Learn more here and, if you're interested in volunteering with us at the event, please reach out to Stanley Rutledge, Community Coordinator, at srutledge@stopfoodborneillness.org.