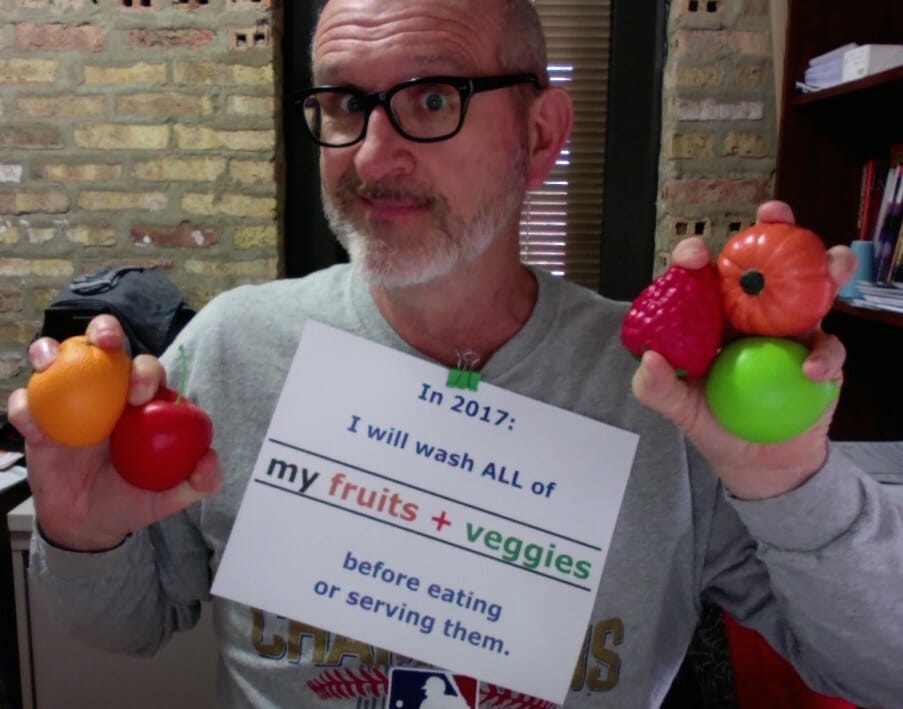 The Power of I WILL: Setting Food Safety Resolutions That Stick
Here we are at the start of a brand new year once again, food safety friends!
And because we know you take prevention of foodborne illness very seriously, we couldn't let January slip by without planting seeds with you about upping your food safety game with some rock solid new year's resolutions.
This year we want to hone in on the power of making promises to yourself with "I will" statements.
When you say (and write down) that you WILL do something, something magical happens. You now feel accountable to make sure you actually do that particular thing. It's similar to saying to your employer that you'll show up for an important event, for instance.
Now, when it comes to making your food safety resolutions for 2017, you've probably guessed it: We want you to make some "I will" promises to yourself that'll help you and your loved ones avoid getting sick from contaminated food.
And, taking it a step further, we're offering up a fun way to help keep yourself accountable while sharing your commitments with other passionate food safety warriors (read more below and don't miss our contest!).
HERE'S WHAT WE'D LOVE YOU TO DO
First, select one or two "I will" statements from the following (and/or create your own):
"In 2017, I will wash my hands before I eat."
"In 2017, I will store leftovers safely."
"In 2017, I will wash ALL of my fruits + veggies before eating them."
 "In 2017, I will not eat foods with increased risk for food poisoning like raw milk and raw eggs."
"In 2017, I will throw leftovers out after four days."
"In 2017, I will transport food safely."
"In 2017, I will use my food thermometer every time I cook."
Feel free to pick more than two if you're game. Picking one or two, though, is a good way to start and can help make it more doable for you.
Next, create a document (handwritten or on your computer) that lists your "I will" resolutions and say them out loud.
Last but not least, take a fun SELFIE shot related to one of your new resolutions.
For instance, take one of you in the kitchen with a food thermometer in your hand. Then, on one or more of your social media profiles—Facebook, Twitter, and Instagram are terrific—post your selfie along with a note about your "I will" statement and the hashtag #stopfoodborneillness.
Check out this example of STOP's Community Coordinator, Stanley Rutledge: 
Now, about our contest!
When you post your selfie by February 15, 2017, you'll be entered to win some FANTASTIC FOOD SAFETY PRIZES.
We'll pick three of our favorite selfies and announce winners/prizes the week of February 20th (And we'll post your pic on our social media). Good luck and THANK YOU so much in advance for your participation.
We can't wait to check out your selfies!
LIKE ON FACEBOOK
Thanks in advance for helping us spread the food safety word!