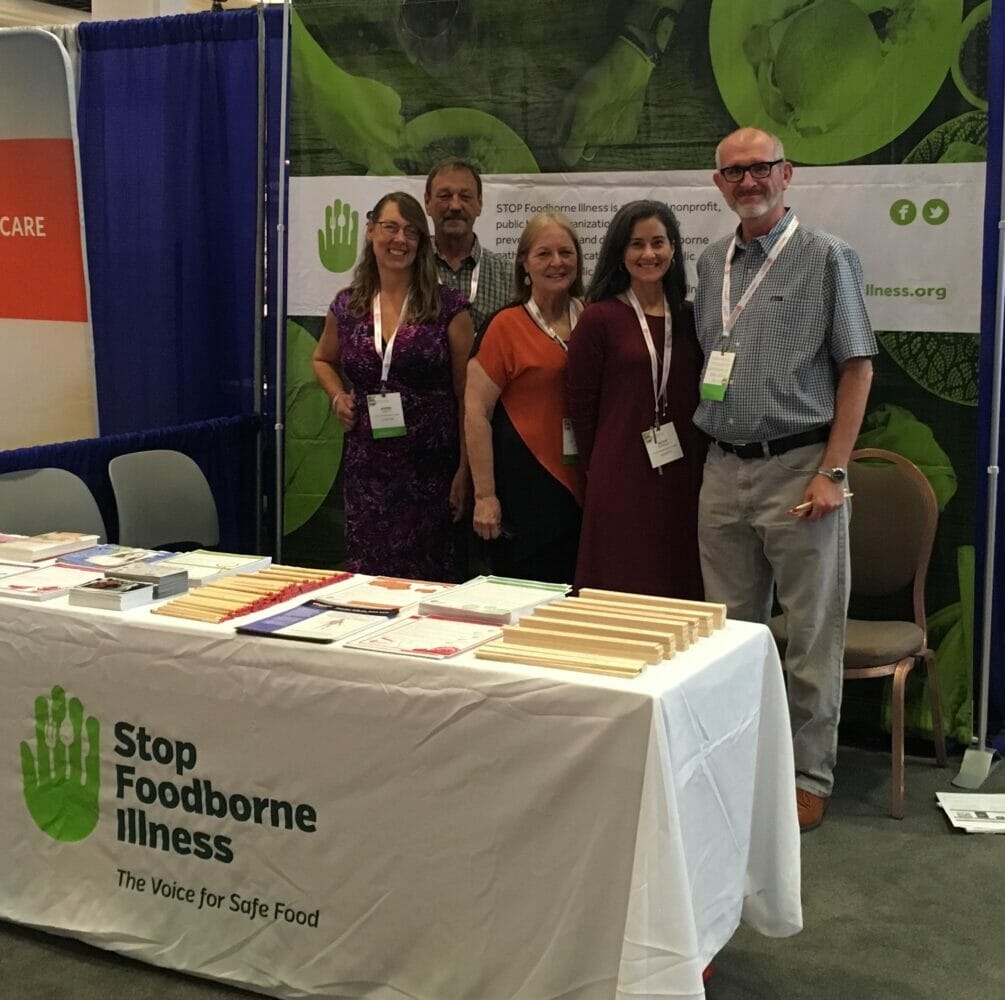 Whew, What a Year! Our Big Thanks to You: Check Out Our 2016 Events Recap
Dear STOP Foodborne Illness Friends and Supporters,
THANK YOU!
As we bask in the beauty of this holiday season and think about all of the events we attended (and will be attending), it's a time of deep gratitude here at STOP Foodborne Illness.
Thank you so very much for your continued support and tremendous generosity. Without it, our presence at key events throughout the year simply wouldn't be possible.
In 2016, we were fortunate to attend a plethora of truly remarkable events (with one more to come). These events helped us touch more lives, educate more people, foster more friendships, engender more support, and do more to prevent the horrific health consequences of foodborne illness.
Below we're sharing a list of those events, along with details on an important Food Safety Consortium we'll be attending later in December (and we'd love you to join us in spirit!):
February
Global Food Safety Initiative Conference 2016
February 27 – March 2
The GFSI Global Food Safety Conference brings together over 1,000 leading food safety specialists from over 50 countries to advance food safety globally. It provides the opportunity to meet and network with industry peers, share knowledge, benefit from thought-provoking presentations from internationally reputed industry experts, and hear innovative ideas to implement in the workplace.  We attended because … as an organization that represents consumers, STOP Foodborne Illness often stands alone at events like this. Many companies are compelled to grow a strong culture of food safety within their workforce, and having STOP's staff and constituents available to share personal experiences makes the message of food safety that much stronger. 
April
April 18-20, Monterey, CA
This event is the west coast's premier food safety conference and expo. Its mission is to bring together companies and professionals to learn, exhibit, and network by offering highly relevant food safety education and innovation. We attended because we were invited to participate. The first speaker on opening day of the conference was California resident, and our constituent, Rustin Brown, a young man who survived a serious bout with E. coli when he was nine years old.
Outcomes from the Event: Rustin had the opportunity to "find his legs" as it were. To gain experience speaking publically about a subject that is near to his heart. His message drove home the reality of what happens when pathogens contaminate food. Thank you Rustin, for your willingness to speak on behalf of STOP Foodborne Illness!!
June
Harris County Food Safety Summit
June 7, Harris County, TX
This event is hosted by the public health department of Harris County, Texas – which is basically the entire Houston region. The event was held at the University of Houston, and the theme was "Don't Gamble with Food Safety". Sessions included offerings such as dealing with language barriers in a food service setting, meat safety, and why healthy dining matters. We attended because our constituent, David Clubb, was speaking. David is a Texan who told his story about a life-threatening case of salmonella poisoning from a chicken sandwich. You can read his story here: https://stopfoodborneillness.org/stories/david/
United Fresh Produce Innovation
June 20-22, Chicago, IL
This event showcases the most creative new produce items and fresh food trends, cutting-edge tools and technology, business-to-business meeting suites, expert consultation center, new produce awards, and industry-leading education. We attended because our good friends, LGMA, invited us to participate in a panel discussion about the training video that we helped them make and the positive impacts on the leafy greens community from connecting farm workers with real people. Our constituent Rylee Gustafson flew in from Las Vegas to participate in the panel – she is also featured in the video. You can see that video here.
Outcomes from the Event: STOP Foodborne Illness received the esteemed Golden Checkmark award from LGMA for our tireless advocacy on behalf of victims of foodborne illness and our support of mandatory government oversight of food safety systems.
July
July 31 – August 3, St. Louis, MO
This event, sponsored by the International Association for Food Protection, provides attendees with information on current and emerging food safety issues, the latest science, innovative solutions to new and recurring problems, and the opportunity to network with thousands of food safety professionals from around the globe. We met lots of friends, old and new, from the food safety community at our booth in the exhibition hall. We handed out more fact sheets about farmers markets and food trucks than anything else.
August
STOP Foodborne Illness Annual Benefit
August 10, Chicago, IL
This STOP fundraiser was a big hit! Lots of "old" and new supporters gathered at Dovetail Brewery to enjoy a variety of craft beers, tasty appetizers, the sounds of great jazz by Lee Alec Barrie, and merriment with fellow friends.
September
September 14-17, Los Angeles, CA
This event, sponsored by the Emergency Nurses Association, brings together emergency nurses in a state-of-the-art, hands-on educational format specifically designed for emergency nurses. It showcases the latest clinical and technological breakthroughs in emergency nursing.
Stanley manned our booth in the exhibition hall and had lots of great conversations with ER nurses about where idea of foodborne illness falls in the list of possibilities of "what is this patient sick from?" We have many constituents who have had positive experiences with ER or other medical personnel, and unfortunately, many who have not. We gained a lot of insight about how illness is diagnosed and treated across the country.
October
Food Safety Culture: We Know Why, Let's Talk About How
October 11, Webinar, Password: Culture2016
This webinar, hosted by STOP, focused on combining the power of "knowing why and how" and understanding sound scientific principles with practice of active, positive outcomes. Ultimately, it helps leaders improve employee behaviors that drive food safety.
October 16-19, Las Vegas, NV
This event, sponsored by the American College of Emergency Physicians, is the largest and most prestigious emergency medicine conference in the world. We attended because we wanted to shine a big spotlight on foodborne illness, its symptoms, and the need for immediate testing and treatment when patients present with symptoms in the ER. Two of our constituents from Oregon, John and Sherri Proffit,  joined us in our booth each day to speak about their family's experience with foodborne illness. We were joined on the first day by faithful friend and former board member Kathy Chrismer, who also lives in Las Vegas.
Outcomes from the Event: See the interview with Sherri Proffit in this issue.
APHA 2016 Annual Meeting & Expo
October 29-November 2, Denver, CO
This event, sponsored by the American Public Health Association, champions the health of all people and all communities as it brings together members from all fields of public health.
December
2016 Food Safety Hero Event at the Food Safety Consortium
December 5-9, Schaumburg, IL
STOP Foodborne Illness is proud to be a partner at this event, which is a summit of food safety and quality assurance industry experts and government officials. The agenda include panel discussions, individual presentations, "Ask the Experts" discussion groups, workshops, training sessions, plenary sessions, and a table-top exhibition.
The Food Safety Hero event on December 6, doubles as a fundraiser for us. We'll be giving three dynamic food safety heroes some very special awards:
Robert Tauxe, Director of the CDC's Division of Foodborne, Waterborne, and Environmental Diseases in National Center for Emerging and Zoonotic Infectious Disease will receive the Advancing Science for Food Safety award.
Jeff Almer, one of our most loyal and involved supporters, will receive the Legacy Tribute, in honor of his mother Shirley who survived cancer, but succumbed to salmonella from peanut butter.
The California Leafy Green Marketing Agreement (LGMA) will receive our award for Excellence in Food Safety Training. Both Scott Horsfall (CEO of LGMA) and Dan Sutton (LGMA Communications Chair) will be on hand to accept the award!
For more information or to purchase tickets click here.
We are looking forward to 2017 and all the wonderful opportunities we see before us! Here's hoping our paths cross with yours in the new year.