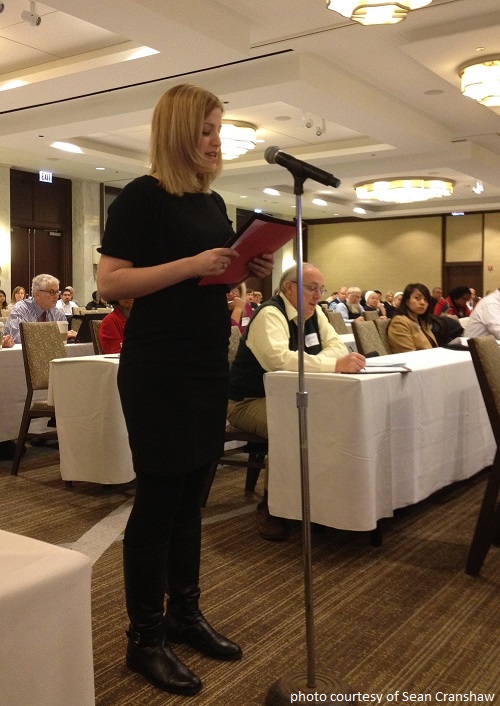 How Your Support of Stop Helps Foodborne Illness Victims and Families
Over the years, Stop Foodborne Illness has been a beacon of hope and help for thousands of people who've endured terrible physical and emotional pain, debilitating long-term health consequences, and lives forever changed because of contaminated food.
The reason?
You!
Whether you volunteer, advocate, donate, help build awareness, or use our tips to practice food safety, you're truly the engine that makes Stop a driving force for good in the food safety world.
Thank you for all you do!
And while we love expressing our gratitude to you, there's nothing quite like hearing it directly from the people you're positively impacting every day.
So, we asked some folks who've been helped by Stop to share their thoughts. Please take a few minutes now to read the poignant comments we've gathered for you below. They're sure to touch your heart and reinforce why your support of Stop matters so much.
From Stephanie Rock Macey
E. coli O157:H7 Survivor, 1994
"I was a child when my family found Stop. After my foodborne illness, we were all still in shock with what happened, and we wanted more answers. At Stop, the people we met not only became an amazing support system for us, but friendships were forged and we were able to support them, too. I joined the first group of activists who went to Washington, D.C. to raise awareness. Even though it's been 20+ years, I'll never forget the special people who, together, started an amazing movement to fight foodborne illness. Thank you so much for being a part of Stop and supporting its work."
From Amanda Craten
Mother of Noah Craten (18 Months), Salmonella Survivor, 2013
"Stop has given my son a voice, and it's given me hope that his suffering hasn't been in vain. Too often it's children who pay the price for a broken food safety system. Children like my Noah are the collateral damage. Thank goodness we're not alone. We have Stop. I appreciate and am eternally grateful for every single person who works with the Stop community. Thank you so much for your generous heart."
From Darin Detwiler
Father of Riley Detwiler, E. coli O157:H7 Victim, 1993
"I had never heard of 'E.coli' before 1993 when my 18-month-old son, Riley, died after falling ill from E. coli O157:H7 and hemolytic uremic syndrome (HUS) during the 'Jack-in-the-Box' outbreak in the Pacific Northwest. Perhaps I was foolish to think at the time that the problem would be solved in a matter of a few years and that more families would not have to endure illness or loss due to a foodborne pathogen. Well, here we are 21 years later and rarely in the time since my son's death have I gone a few weeks without hearing of a recall of tainted product, an outbreak, or—and this has hurt me the most over these years—more deaths. I am just one parent, one teacher, and one voice for others to hear. For me, Stop has been a consistent group of voices in support of safe tables and supporting families. The challenge is tough, but the mission is paramount. Thank you, Stop."
From Shauna Dockter
Mother of Morgan Dockter, E. coli O157:H7 Victim, 2002
"I was introduced to Stop in 2002 when my three-year-old daughter, Morgan, died after falling ill from E. coli O157:H7 and hemolytic uremic syndrome (HUS). During the 12 years since our daughter was taken from us, Stop has always been there for our family. For me, Stop is a vital place to get education and information about the effects of contaminated food. Many families like mine have lost loved ones, and it's my goal to help prevent illness or worse—death—by staying updated on what's happening in the food industry and with government policy. Whenever Stop reports on recalled foods, I share that information with my family, my clients, local schools, and my Facebook friends. Stop helps me heal by helping others. People like you who support Stop make this possible. I can't thank you and everyone at Stop enough for all the hard work and dedication that goes into making this organization so helpful and special. Thank you, thank you, thank you!"
From Margo Moskowitz
E. coli O157:H7 Survivor, 2009
Stop Foodborne Illness Board Member
"Stop was there for me after I was hospitalized with an E. coli O157:H7 infection in 2009. Stop enabled me to share my story with many others including national news outlets, senators on Capitol Hill, and other national food safety organizations. I proudly give to Stop on a monthly basis and, as a new board member, I'm excited to see how I can help give back to an organization that has given me so much. Thank you for caring about Stop. We need you, and I'm so glad you're with us!"