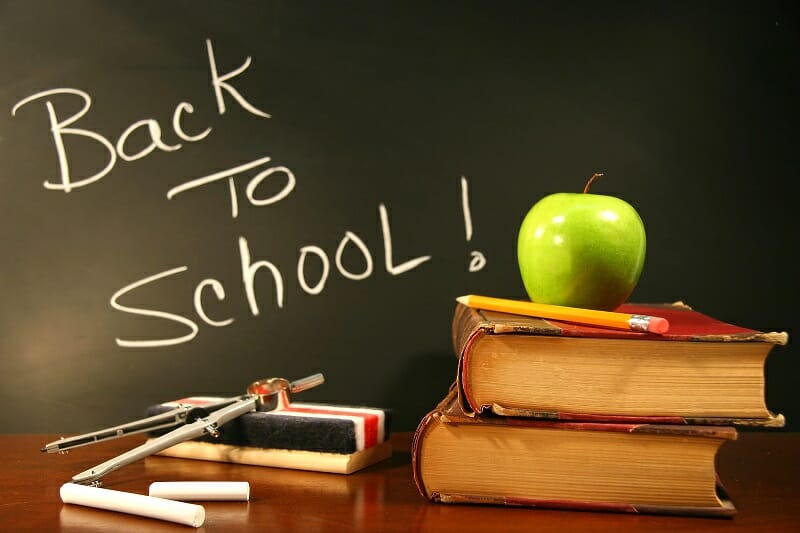 How to Pack a Safe School Lunch for Your Kids + Tips for Safe Cafeteria Lunches
In just a few weeks, summertime will be winding down and children will be heading back to school.
Now is the perfect time for parents who pack lunches for their precious kiddos to brush up on how to keep harmful food poisoning out of the lunch box. With a little planning, you'll be happily surprised at how easy packing safe lunches can be in your daily morning routine.
So, here's a list of facts, tips, and resources to help you pack your child's lunch with food safety as the top priority:
Bacteria danger zone. Keep in mind that bacteria grow rapidly in the temperature "danger zone" of 40-140 °F.
Wash your hands. When preparing lunches,

wash your hands thoroughly

 and keep all surfaces you're working on clean. Seeing you in the habit of washing your hands before and after preparing/eating food is an invaluable safety lesson for your child, so use this as an opportunity to explain the importance of hand-washing in preventing foodborne illness.
Use an insulated lunch box. Whether hard-sided or soft, this helps keep cold foods cold and hot foods hot until it's time to eat them. Food safety experts agree: This is a "must have" item. The best option is one with an insulated lining and a pocket for a thin freezer pack. Using an insulated box will help keep your child's food out of the bacteria growth "danger zone."
Use ice packs. Another "must have," these inexpensive items are vital for keeping cold foods cold. You can pick them up for about $1 each.
Use an insulated thermos. This keeps hot foods hot like soups, chili, or Mac and Cheese.
Freeze drinks before packing. Frozen milk, juice boxes, and water bottles will help keep the drinks cold, along with other cold foods you've packed. Frozen items will melt during morning classes and be ready for drinking at lunch.
Pack hot foods while hot. Don't wait for hot foods to cool down before packing. This puts them in the temperature "danger zone" where bacteria multiply. Instead, pour piping hot foods like soups immediately into an insulated thermos. You can also preheat your thermos by filling it with boiling water, letting it sit for a few minutes, pouring out the water, and then adding your hot food.
Wash and separate fresh fruits/veggies. Put these in plastic containers to keep them away from other foods and be sure to wash thoroughly before packing.
Use individual snack packs. To help prevent the spread of germs, these are recommended. Portions packed from larger bags of items like pretzels, chips, and cookies means potential exposure to bacteria from many hands that have been in and out of the bag.
Add room-temperature-safe foods. Some foods don't need to be refrigerated to be safe. Peanut butter, jelly, cookies, crackers, chips, dried fruit, and certain whole fruits (bananas, apples, and oranges) can be eaten safely at room temperature. When packing fruits like apples with skins that'll be eaten, be sure you've washed them first.
Encourage your child to wash their hands. Before and after eating their lunch, stress how important it is to wash their hands. Hand-washing is best, but wet wipes or hand sanitizer will work in a pinch.
Avoid putting food on tables. Once kids are in the cafeteria, they shouldn't put their food on the table. Pack a paper towel or some wax paper they can use instead.
Explain the 5-second myth. Be sure your child knows that the "5-second rule" is a myth. Any food that touches the floor needs to be thrown away.
Toss perishable food. If not eaten at lunchtime, let your child know to throw away perishables like meat, poultry, or egg sandwiches. Unopened, room-temperature-safe foods and uneaten fruit can be kept.
Clean and sanitize. Make sure lunch boxes are regularly cleaned and sanitized. We recommend you clean your child's box each evening before packing the next day's lunch.

Click here

for box cleaning tips.
Food Safety Tips for School Cafeteria Lunches
Now, for children who eat their lunch through the National School Lunch Program (NSLP), it's important to teach them ways they can help prevent foodborne illness at lunchtime, too. And getting active through advocacy is critical for positive change.
Although the U.S. Department of Agriculture states they are "committed to a comprehensive, coordinated approach to food safety for the NSLP," the sad reality is that children have become gravely ill from lunches served at schools.
One young girl, Lindsay, endured extensive health problems and horrific pain after eating a strawberry dessert served at her Michigan school that was contaminated with Hepatitis A. And Lindsay wasn't the only victim. A huge outbreak ensued with hundreds more Michigan children getting sick with Hep A from tainted strawberries.
So, STOP urges you to do a couple of things:
First, talk with your kids about this issue and share food safety tips they need to use, which include:
Washing their hands. Your child should wash his/her hands before and after they eat.
Avoiding putting food on tables. Keep it on the plate, or put a napkin down.
Checking for undercooked food. For instance, if hamburger meat looks raw/pink, your child shouldn't eat it.
Checking for food that looks spoiled. For instance, if vegetables/fruits are wilting, have mold, or look discolored, your child shouldn't eat them. Help your child learn more with tips here.
Reporting unsanitary conditions. Cafeteria workers not wearing gloves/hairnets, dirty surfaces/equipment, yellowish water flowing from the drinking fountain, and cockroaches/rodents roaming around are some examples. If your child spots these or any other unacceptable conditions, he/she should report it to a school authority ASAP.
Inspect the cafeteria yourself. Make a personal visit to your child's school and take a good look around the cafeteria. Again, report anything unsanitary that's a food safety hazard.
Next, become an advocate for improved school food safety practices and stricter regulations.
Start by reviewing this Food-Safe Schools Action Guide published by the U.S. Department of Agriculture. It's intended for school nutrition directors, but it's an excellent resource for parents, too. This guide helps bring together all aspects of school food safety that need to be considered when serving food in schools. It'll help you become aware of regulations, ask good questions, and take action on anything you feel isn't up to snuff.
Then, reach out to your legislators today and urge them to take action on regulations you'd like to see tightened up to help prevent foodborne illness in schools. For inspiration, read the story of Tyler and his mother, Cheryl. As an 11-year-old, Tyler ate a contaminated, undercooked burger at his school that caused horrific pain and health problems, including life-threatening kidney failure. In her testimony to government officials, Cheryl laid out 4 key steps she felt needed to be acted on ASAP.
Let Us Know If We Can Help!
For questions and personal assistance, please contact Stanley Rutledge, Community Coordinator, at srutledge@stopfoodborneillness.org.