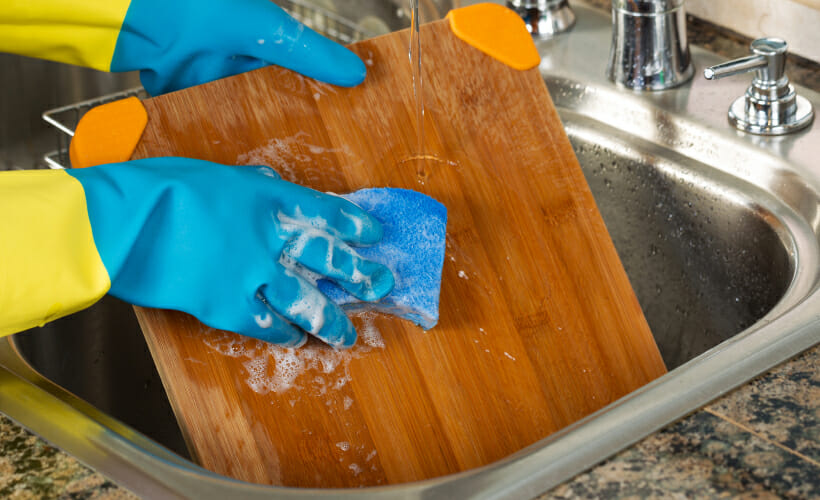 Celebrate Food Safety Education Month with 8 Ways to Prevent Foodborne Illness
At STOP Foodborne Illness, we get pretty fired up about the month of September!
It's our favorite time of year because National Food Safety Education Month kicks off, putting a big focus on helping you and your family get into action with steps you can take to reduce the risk of foodborne pathogens in your home.
Need some inspiration?
We've got you covered with our round up of eight ways you can make National Food Safety Education Month a rousing success:
#1: Clean Your Kitchen
When was the last time you gave your kitchen a really good, deep clean? Now is the perfect time to check that off the to-do list. Your kitchen harbors more potentially dangerous bacteria than any other room in your home. So, check out these handy tips to keep your kitchen as germ-free as possible.
#2: Share Your Story
If you've personally experienced a foodborne illness or watched a loved one suffer, your story is the most powerful way to connect with others and motivate them to make food safety a priority. On social media channels like Facebook, Twitter, YouTube, Instagram, Pinterest, and LinkedIn, let your friends know what you've gone through, how it impacted your life, and what you want them to do. Hint: Encourage people to celebrate National Food Safety Education Month with you by doing one or more things we've highlighted here.
#3: Throw a Food Safety Party
Food poisoning is a heavy, serious topic. But that doesn't mean you can't have a little fun helping others learn how to fight back against it. Our recommendation? Gather friends at your home and do some food safety education in the kitchen. Teach your guests about the proper way to wash hands, how to avoid cross-contamination, the 2:4 rule for leftovers, how to use a meat thermometer, proper refrigerator/freezer temperatures, and other basics. Give each guest a goody bag to take home with brochures/fact sheets and a safe cooking temperatures magnet (contact STOP Foodborne Illness for help with materials at info@stopfoodborneillness.org).
#4: Promote STOP's Website
Over at www.STOPFoodborneIllness.org, we've got an extensive library of fact sheets, brochures, and other resources available to help people learn about foodborne illness, how to prevent it, and where to find support. Take some time to get more familiar with all we offer on our site and encourage your friends and family to do the same.
#5: Share a "Quick Facts" Sheet
Our "Quick Facts" sheets are perfect for helping people get easy-to-understand, bite-sized information about different food safety topics like Handwashing, Guidelines for Older Adults, Spring Cleaning, and many others. Access them here, share links on social media, and/or print them to hand out to friends and family.
#6: Make Your Voice Heard
Want to make some major impact? Speak up about food safety changes you want to see happen. Whether you're interested in tackling a specific issue or expressing general concerns, reach out to leaders who have responsibility for doing something about food safety issues. These people include national/local government representatives, grocery store/restaurant managers, and school administrators. Visiting or calling is best. You can also send a letter or email, along with commenting in related online forums if available. Check out our Legislative Action Center for current advocacy initiatives you can join in on, and use our handy search tool to find and send emails to government officials.
#7: Create a "Pledge Board"
This is a cool one! Grab a cork board and fill it up with post-it note pledges from friends, family, and co-workers. Ask people to make one food safety pledge they'll stick to for life. A few ideas: Washing their hands before/after prepping food, using a meat thermometer every time they cook meat, always taking groceries home right after shopping, not eating food that's dropped on the floor, and throwing leftovers out after four days in the fridge. Fill up the board with all the pledges, display it at your home or workplace, and enjoy the inspiration it provides for everyone.
#8: Donate to STOP Foodborne Illness
Monetary gifts fuel our life-saving mission. They enable STOP Foodborne Illness to continue our programs, advocate for positive change, and offer personal support to victims whose lives have been turned upside down because of foodborne illness. You can play a critical role in driving our work forward by making an online donation right now. Want to go a step further? Start a mini campaign with a goal of raising $100, $250, $500, or $1,000. Reach out to friends, family, and colleagues urging them to join forces with you and make a donation, too.
Ready, Set, Celebrate!
All right, now that you're armed with plenty of great ideas, it's time to get into action. Today, pick one or two activities from our list above and celebrate National Food Safety Education Month with everything you've got! Pour your heart and soul into whatever you choose to do.
And please let us know what you're up to!
Email Stanley Rutledge, Community Coordinator, at srutledge@stopfoodborneillness.org to share details and pictures. You may even be featured in one of our Facebook posts (with your permission, of course).
On behalf of all of us at STOP Foodborne Illness, thank you for taking some of your time, talent, and resources to celebrate National Food Safety Education Month with us. We appreciate you bunches!
---
Next: Conversations & Collaborations