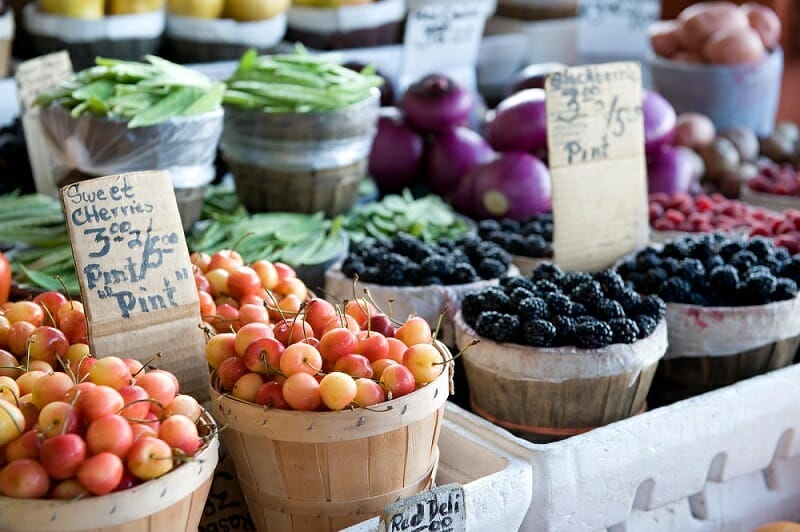 How To Buy, Cook, and Eat Safe Food On the Go this Summer
Summer is here!
In addition to all of the fun and sun this wonderful season brings, it also means that more people will get sick from food poisoning.
During warm weather, bacteria thrive. The increased heat and humidity contribute to the rise in foodborne illness during summer months, as does the reduced control consumers have over the environment in which their food is cooked and eaten.
Whether you're at the farmers market picking up your favorite locally grown produce or a summer festival enjoying tasty temptations served up by vendors, food safety is a paramount concern.
At STOP Foodborne Illness, we want to help make sure you and your family enjoy a food-safe summer.
So, please take a few minutes now to check out the many resources we've gathered below. You'll find information and action steps you can take to reduce the risk of harmful pathogens in your on-the-go food this summer.
Quick Facts: Shopping at Farmers Markets
Farmers markets have grown in popularity in recent years. If you're a farmers market fan, you undoubtedly find the experience of buying fresh, delicious locally-produced fruits, veggies, and other foods enriching and rewarding.
But, are you also keeping food safety in mind?
There are many things to be mindful of as you buy and transport food purchased at farmers markets. And if you're trying samples or consuming ready-to-eat foods, you'll want to verify that safe food serving practices are used.
Click here to learn more with our Farmers Markets Fact Sheet.
Quick Facts: Festivals & Street Fairs
Attending fairs, festivals, and carnivals is a much-anticipated highlight of summer for families and individuals alike. The rides, games, music, and large variety of food offerings add up to a big, exciting draw.
But, before you head out, be sure to review our top food safety tips. By following them, you'll help make sure you and your family have a safe and enjoyable eating experience at these events.
Click here to learn more with our Festivals & Fairs Fact Sheet.
Quick Facts: Food Trucks & Food Carts
The arrival of warm weather also means the arrival of food trucks and carts.
Especially in big cities like Chicago where STOP's offices are, you see them all over town. Estimates from 2012 put the number of food trucks in America somewhere between 15-20,000.
While it's easy to love food-on-the-go, one thing that's hard to take is foodborne illness. Keep in mind that food trucks are less regulated, so you need to be especially careful. Before you pick up your next mobile meal, check out our tips below.
Click here to learn more with our Food Trucks & Food Carts Fact Sheet.
Additional Resource: Summertime Barbequing
Gathering with friends and celebrating summer holidays like Independence Day with backyard barbeques are time-honored traditions we all look forward to!
But, before you fire up the grill this summer, brush up on some picnic and barbequing food safety tips here.
Got a Question or Need Help?
If you've got questions or need assistance, reach out to us anytime at info@stopfoodborneillness.org. We're always here to help!