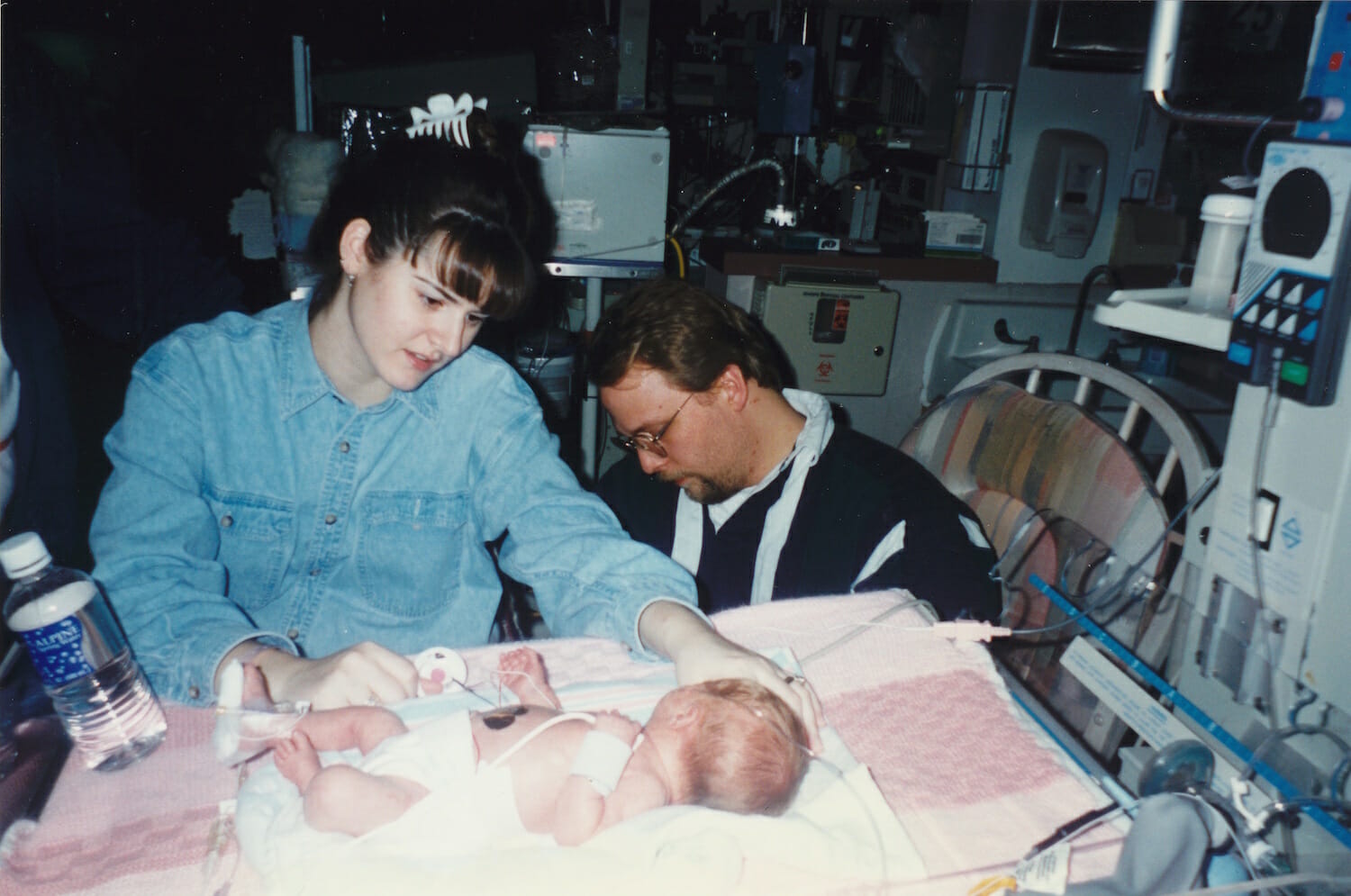 Devastation, Heartache, Death: The Aftermath of Foodborne Illness + How to Get Support
You know the stories.
If you've been a longtime Stop Foodborne Illness supporter, you likely know them all too well.
A mother watches her beautiful daughter's once-perfect health go downhill fast while lying in a hospital bed for weeks with no improvement.
An entire family suffers terrible grief when their formerly vibrant, active grandfather becomes debilitated as he fights through the ravages of organ failure, health issues a mile long, and crippling depression.
A son's heart is shattered in a million pieces over the sudden death of his beloved mother whose life was whisked away.
When contaminated food rears its frighteningly ugly head, stories like those above make their way into our world here at Stop Foodborne Illness. And it cuts us to the core every time.
As constituent Darin Detwiler recently noted in a presentation he gave on behalf of Stop Foodborne Illness:
"Companies rally and recover from an outbreak. Families don't. They NEVER recover. When there's a death, there will always be an empty chair at the table."
Darin knows. He lost his baby boy, Riley, to E. coli poisoning at just 16-months-old.
One thing we take very seriously at Stop Foodborne Illness—and something we have tremendous passion for—is helping victims and their families cope with and triumph over the devastating aftermath of foodborne disease. It's a difficult, painful, and oftentimes slow journey. But, if you're a victim or a family member who needs help, we're dedicated to helping you through it with caring hearts and a plethora of supportive resources.
In this article, we're going to cover some of the most common health and life challenges that come up for a foodborne illness victim or an affected loved one. In each section, you'll find our best recommendations for working through those challenges and getting support. You're not alone. We're here to help and there's a lot you can do to ease the pain, heal the damage, and be a voice for positive change.
PHYSICAL HEALTH CHALLENGES
A wide range of serious, painful physical health challenges can arise due to food poisoning. These include high blood pressure, a compromised immune system, diabetes, kidney damage, neurological issues, chronic arthritis, brain damage, Guillain-Barré Syndrome, and more.
How You Can Get Help
Be Your Own Best Health Advocate. Not all medical professionals are well-versed in foodborne illness and medical knowledge tends to evolve quickly. Commit yourself to becoming an expert on your specific health challenges and needs and find the most competent professionals who can best treat you.
Be Diligent About Good Self-Care. Especially when you're sick, carve out plenty of time to take good care of YOU. This is different for everyone. But some good self-care basics include eating healthy, fresh, whole foods; moving your body (as best you can); keeping stress at bay; and doing the "little things" that help you feel calm, soothed, and less overwhelmed. Those activities might include meditating, doing yoga, sipping your favorite tea by the fire, reading a good book, taking a long walk, or enjoying a warm bath. Good self-care is truly a must and it can do wonders for accelerating your body's ability to heal.
Recruit Other Advocates. Let's face it: It takes a village. Be sure you're reaching out to friends, family members, health professionals you trust, religious leaders, and advocates at organizations like Stop Foodborne Illness to ask questions, learn more about your specific situation, gather helpful resources, get support, or perhaps just for a listening ear.
Talk to Other Victims. We hear over and over that, by far, fellow victims are the #1 source of support and information for anyone struggling with the aftermath of a foodborne illness. Sometimes they're able to give you important diagnostic and treatment information faster than medical professionals. Fellow victims are typically very helpful with giving tips on how to cope with physical pain and challenges, too. Contact Stanley to find out more about our Peer-to-Peer mentoring.
EMOTIONAL HEALTH CHALLENGES
Grief, anger, betrayal, and depression are common feelings among foodborne illness victims. You may need to grieve over the loss of your health, financial security, social life, identity, or someone you love. You may feel angry about how your life has changed. And depression may have a grip on you, making it hard for you to feel motivation to do things you once enjoyed.
How You Can Get Help
Seek Professional Counseling. Particularly for people experiencing extreme emotional/mental health challenges like severe depression, post-traumatic stress syndrome, or panic attacks, meeting with a professional counselor provides a high level of expert care in a one-on-one format that can be essential for the healing process.
Connect on Social Media. One of the easiest and most powerful ways to get support, learn a lot, and make new food safety friends is via Facebook and other forms of social media. For instance, did you know there's a Facebook support group for victims of Hemolytic Uremic Syndrome (HUS) and their families? Not to mention Stop's Facebook page here (be sure to LIKE it if you haven't already).
Keep a Journal. Jotting your thoughts and feelings down in a dedicated journal can be quite therapeutic. Try it out for about 20 minutes each night. Among its health benefits, journaling has been shown to improve immunity and reduce stress.
SOCIAL LIFE CHALLENGES
When people are struck with a foodborne illness, their social life usually changes a bit—or sometimes a lot. Maintaining healthy, positive relationships can be tougher. And perfectly normal, enjoyable activities like cooking and eating out can bring on worry, fear and, panic. For some, they become downright scary.
How You Can Get Help
Be Patient with Yourself. It takes time to process what you're going through. You may find your emotions are all over the place—feeling stable one day and angry the next. Try to accept how you're coping with your illness. Give yourself permission to progress and heal at your own pace.
Communicate, Communicate, Communicate. When it comes to your relationships, open communication is key. Be honest and open about your feelings, concerns, and needs with people closest to you. The people who love and care about you will understand when you have mood swings or need space.
Educate Yourself on Food Safety. Educating yourself about how to avoid the risks of foodborne illness can be a huge help when it comes to overcoming the fear you may have around eating/cooking. Visit our website for some excellent resources.
Become a Food Safety Advocate. Victims and their family members tell us time and again that advocating for safe food is VERY empowering. For so many, it's a way to take something traumatic in their lives and turn it into something good. Helping others prevent the tragedy of foodborne disease can really give you a sense of purpose and kinship with others who are passionate about the same cause. Check out advocacy opportunities with Stop Foodborne Illness (and other ways to take action) here.
FINANCIAL CHALLENGES
Dealing with the aftermath of foodborne illness oftentimes brings on a heavy financial burden. Expenses abound, including those for medical care, medications, therapy, and funeral costs. And many victims find themselves unable to work for a period of time after falling ill, so lost wages can be a big factor.
How You Can Get Help
Contact Nonprofit Organizations. Many nonprofits offer financial grants and other kinds of assistance to people in need. These include organizations like the United Way, Salvation Army, and Catholic Charities of America. Visit this site for a comprehensive list and do your own Google search to find others.
Ask Your Local Church. You may qualify for local emergency or other financial assistance in your community that your church representatives can point you to.
Reach Out to Your Government Officials. It's always a good idea to see if your city council or state senator's office can help you find financial resources. While our Legislative Action Center is being remodeled, you can

find your elected officials here

.  
Launch a GoFundMe Campaign. Many people are having huge success raising funds for medical costs this way. Learn more here.
NEED MORE HELP?
We're here for you. Please contact Stanley Rutledge, Community Coordinator, at srutledge@stopfoodborneillness.org or 773.269.6555, ext. 7. Stanley can answer your questions and point you to helpful resources.