Q: Tell us about Serena.
A: Steve had joined the Air Force Reserves, so he and Rachel moved to Florida for his first two years. I hated losing my neighbors, especially now that Rachel was pregnant with granddaughter number four. Thankfully, they were able to push back their departure and Serena Faith was born in Oregon, October 6, 2009. The joy our family felt was amazing!
Those two years went by quickly, and just like that Squeaky Girl (Serena) was living next door to Nana again! And I loved it. She would come to play, bake with me, or just watch cartoons. Sometimes all three granddaughters came over just so we could have girl time. We started the family tradition of all us girls wearing Nana's flannel for Christmas. Squeaky Girl was the most excited for that.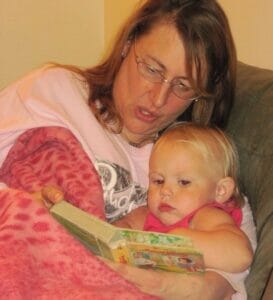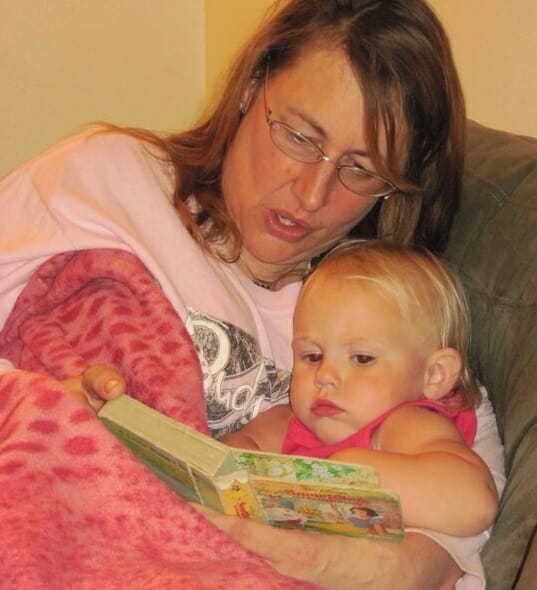 In 2012, Rachel and Aleasha were pregnant with girls again, due at the same time. Just like that, I had five granddaughters. I loved having them all together, and dressing them alike. Of the three older girls, Serena lived the closest and spent the most time at my house. She talked like Nana, walked like Nana, and most the time, wore her red sparkly shoes with a twirly dress. If the dress didn't twirl she wouldn't wear it.
Serena was very smart, and could sing a song after hearing it once. She was certain that her sister was born just for her. When she spent time with her dad, they enjoyed building things and hunting. Every week, while I was working, Rachel would bring Serena and sister, Hannah, into the restaurant for blueberry pancakes.  Serena would ask to be my helper and put her own order in on the computer. There wasn't anything she didn't think she could do. She had more faith in God than any child of four I've ever seen. At dinner she would reach for my hand, "Come on Nana we need to pray."
The weekend before Labor Day 2014, Steve's family met up with Brad (Serena's friend who also contracted E. coli) and his mom, Elizabeth, at Aleasha's. They all went swimming, ate watermelon, and fed watermelon to the family goat. The next weekend Elizabeth and Lil Brad came down to Steve and Rachel's house, along with six other kids. Brad and Serena shared a sandwich that day at a local restaurant.
Serena started showing signs of being sick that weekend, but still helped her dad with wood work. By Wednesday Rachel took her to the local hospital because she'd suffered days from diarrhea, and was starting to have blood in her stool too. When I spoke with Rachel she said they were running tests but thought Serena had a rotavirus infection.
They recommended seeing a pediatrician in two days. But Rachel didn't wait – Serena was getting worse so she went to the pediatrician a day earlier. Even though Rachel said she didn't know the last time Serena had peed, the doctor said she looked good. His office called the next day saying the test results were negative.
On Saturday, Rachel called me and said Serena was not good and could I go with her to McMinnville to a larger hospital? I did. From what Rachel told me I guessed that maybe Serena had a kidney infection on top of a rotavirus infection. When the doctors said her kidneys were failing my heart sank. Fear was at the door, but I didn't want to answer it. E. coli tests, which had been cancelled at the previous hospital, were ordered. Then an ambulance came to take her to the Children's Hospital in Portland. I told myself, "No!" even as the panic was rising. I reassured myself that now Serena was getting the best care and everything would be alright.
I drove home to get baby Hannah so Steve could meet up with Rachel in Portland. All the way there I tried to be positive, but my mind kept wandering back to when we lost Moriah and I prayed that nothing like that would ever happen to my son again. Yet, here we were praying for our Serena.
After a night of dialysis, she woke up smiling and said," Good morning daddy and mama," we thought we were ok. I prayed harder. The family of friends that showed up to support us was unbelievable. The same friends that have been to all our weddings, have gathered in our house, and who gave us a memorial service in honor of Moriah. We clung to each other as we sat and waited, and prayed.
I felt like it wasn't real, she had to be ok.
Later that night while her exhausted parents napped in a bed beside her she had a stroke while holding her Aunt Aleasha's hand, a grip my daughter says she will never forget. She had HUS and it was attacking her brain. They tried to remove the pressure off her brain but it wasn't enough. She was pronounced brain dead.
This was more than devastating, it was unbearable. Nothing is worse than seeing your children feel helpless watching their own child suffer. The pain is enormous, and far worse than losing the first child. Serena was too full of life to just be gone in 10 days!
Suddenly it became news. Two other children being infected with E. coli during the same time frame. Our phones were ringing with people really wanting to talk to us. We escaped to Annie's (our youngest) home seeking solace from reality a little longer.
The kids were too devastated to even begin to handle this, so as the health department started investigating possible leads, I was planning another memorial service. I had never written an obituary, and now I was writing one for my granddaughter. After 4 days of sharing tears with a friend, we finished it together.
Then I went to our local businesses and told them who I was and that I desperately needed their help. They unquestioningly responded with such humbling generosity.  So with fairy wings and wands for decoration, we pulled together pictures and songs fit for a four year old. Whenever anyone at the service asked, "How are you doing?" I told them I was wearing my "big girl panties."
Just as soon as it was over, the big girl panties hit the wash and I hit a wall of depression. Aleasha and her girls parked their motor home at Steve and Rachel's to be on hand to take care of them. I was thankful for that, as I could hardly take care of myself. Time kind of stood still as I was spinning in circles. I didn't go back to work. I didn't go back to anything. There was a light during this dark grieving time – my Annie gave birth to a beautiful girl! Who will never know her cousin, Serena.  My thoughts were outside myself … you look at the wall filled with pictures of your life knowing that this one is her last one; when the other girls come over you can hear her voice in their laughter and then you don't; you buy Nana flannel for Christmas but no one really wants to wear it because Serena's not here.