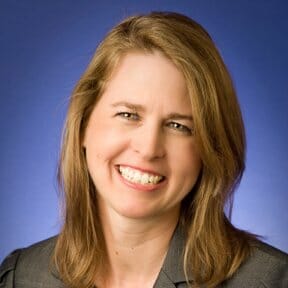 Partner Spotlight: Meet Janet Buffer at The Kroger Co.
STOP Foodborne Illness is proud to collaborate with many companies who share in our mission to keep food safe.
And The Kroger Co. is one example!
We recently caught up with Janet Buffer, Subject Matter Expert – Food Safety at The Kroger Co., so you can get to know this passionate, experienced, caring food safety professional who plays a very important role in making sure the food you buy at Kroger safe.
Q: How did you begin your food safety career, Janet?
A: Food safety has been a part of my career since completing my Bachelor's degree and embarking on my career as a Dietitian. However, it wasn't until I began working with Lydia Medeiros, PhD., RD., at The Ohio State University in 2006 that I began to focus more on food safety and less on nutrition.
My career with Dr. Medeiros involved work on several projects targeting safe food handling and consumption behaviors. We worked with farmers, pregnant women, raw milk consumers, and restaurant owners. During my six-year tenure with Dr. Medeiros, one thing really stood out for me:
Consumers knew very little about food safety and were interested in learning how to properly handle their food to protect their families.
When Dr. Medeiros retired, I stayed in the food safety field and began searching for another food safety position. That's when I began working with The Kroger Co.
Q: As Subject Matter Expert – Food Safety for The Kroger Co, what's a day in the life like? 
A: Every day is different. I work in the process change department, known as Key Retailing. Process change involves reviewing various practices and improving those practices to create a better experience for the customer. It's also about making the task easier to understand and more efficient for Kroger associates.
In Key Retailing, several teams of people work on different store processes and, because we're a food retail company, most of these processes are around food. Much of my day is spent answering questions about food handling practices, regulatory issues, and reviewing documentation that involves safe food handling. My role supports the Food Safety Department with project development, testing and implementation, and I work very closely with the retail food safety team.
Q: What do you enjoy most about your work and why?
A: I really like when people tell me about something they read, heard on the radio, or saw on TV about food safety. Having people stop and share their stories lets me know they're aware of the importance of food safety in their personal lives. I know sharing stories doesn't guarantee perfect food handling behaviors. But awareness is the first step toward positive change, so it's always exciting to hear people becoming more mindful of food safety.
I also enjoy working with our various teams on different projects and seeing them released to our customers and employees who benefit from them. It's incredibly rewarding to observe food handling practices being emphasized as part of a large project. I love when an entire department demonstrates their knowledge around best practices in food handling and puts them into action.
Q: Was there a specific event that was an important influence on your interest and commitment to food safety?
A: No, I wouldn't say there was. My entire career has involved food safety, so lots of experiences have shaped my views and feelings.
I worked in long-term care facilities for years, and one of my jobs was to inspect the kitchens for proper food handling and storage practices. For a five year period I worked at the General Clinical Research Center at OSU.  That gave me the opportunity to work with patients who participated in pharmaceutical clinical trials, which included providing food to the immune-compromised participants. I've always been enthusiastic about the importance of safe food handling. However, I'd say it was my work with Dr. Medeiros that made me realize how little consumers understand and practice food safety.
Q: How did you learn about STOP Foodborne Illness?
A: STOP Foodborne Illness partnered with The Kroger Co. on a food safety culture campaign back in 2012. During that project, I learned about the organization and all the positive work they do to help educate the public about safe food handling. STOP Foodborne Illness' work on that campaign promoted a strong food safety message to over 330,000 of our associates. Launching it was very exciting and effective! Many associates shared their own foodborne illness experiences and committed themselves to protecting our customers by following safe food handling practices.
Q: What's one thing you encourage our readers to do to help promote food safety? 
A: When you see people handling food correctly or incorrectly, let them know they're doing a good job or help them learn what they can do to improve.
Food handling is habitual and, oftentimes, people are simply unaware that they're not using the best food safety practices. You can have a gentle conversation with someone that includes sharing a personal experience and a tip for how to handle food more safely. That approach goes far when it comes to increasing awareness of how someone can help prevent foodborne illness for themselves and others.
Q: What personal message do you have for our readers, many of whom have been personally affected by foodborne illness?
A: Don't stop talking about food safety!
Especially if you've endured a foodborne disease or have seen a loved one suffer, make your voice heard. It's the best way to create a ripple effect of positive change. Please keep sharing your experiences and KNOW you are making a difference.
About Janet Buffer
Food Safety, nutrition, and training have been the focus of Janet Buffer's career for the past 25 years. She has published articles in peer reviewed journals pertaining to health care professionals' knowledge of food safety and highlighted the need for more extensive training in this population.   Other research projects pertained to the consumer and safe food handling practices in the home.  Her experience with food safety research and education is now being applied in the retail industry with the most recent endeavor related to cold-chain management and temperature monitoring.  Training associates in cold-chain management procedures in conjunction with the electronic temperature monitoring technology have been a major building block in Kroger Co.'s food safety culture program.
---
Next: Person of Influence